Sinopec increases natural gas supply to meet winter demand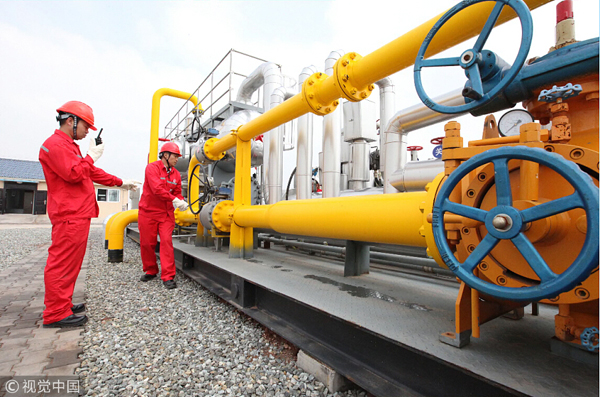 Employees work at Sinopec's Dongsheng gasfield in Erdos, North China's Inner Mongolia autonomous region, July 21, 2017. [Photo/VCG]
China Petroleum and Chemical Corp (Sinopec), the world's biggest refiner, also known as Sinopec, vows to increase its natural gas supply to 15.1 billion cubic meters, a 13.1 percent year-on-year increase, to ensure the heating season supply.
Natural gas consumption in China's northern cities is expected to further increase this year, as central government is pushing forward its fight against smog to lower the smog intensity by replacing coal with natural gas.
Beijing alone has closed its four major coal-fired power plants and replaced them with four gas-fired plants located in the capital's southwest, northwest, southeast and northeast.
Beijing will achieve natural gas-fired heating in its six downtown districts this winter as part of its anti-smog efforts.
According to Sinopec, the company will ensure the upstream gas fields into full production, while it is also coordinating with peer companies negotiating the sharing of gas pipelines to ensure efficient transmission.
The company is also pushing forward the Fuling shale gas field, China's first shale gas commercial production program, and making sure it reaches annual output of 10 billion cubic meters by end of year.