Antora muscles into male order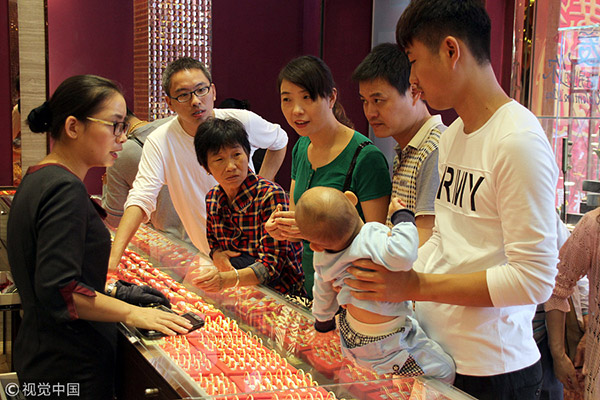 Shoppers look at gold accessories in a jewelry shop in Suzhou, Jiangsu province. [Photo/VCG]
Antonio Rapisarda is confident there is a niche market for men's jewelry in China.
The chief executive officer of Antora is planning to introduce a range of cufflinks, costing between 200 euros ($233) and 250 euros, to fashionable Chinese stores along with other accessories.
Based in Italy, the brand name has been involved in men's jewelry since 2001, starting to sell a variety of different products in China through a Shenzhen-based distributor three years ago.
"Sales were positive, but we stopped 18 months ago so we could promote our label rather than just sell other products," Rapisarda, 43, said.
"Most jewelry items are only for women shoppers, and even brands offering products for men are actually unisex," he added.
Rapisarda hopes to build a major men's brand in China by aiming for professional customers, who appreciate the good things in life, such as classically designed cufflinks.
Already the company has been successful in the United States, the United Kingdom, France, Spain and South America.
And there are signs a market could be out here, despite turbulence in precious metal prices.
Last year, sales of platinum goods fell 8 percent in more than 8,000 jewelry stores run by 58 retailers across China due to a price slump, a Xinhuanet.com report highlighted, citing figures from Platinum Guild International.
In 2017, the report has predicted a drop of between 4 and 7 percent in sales of platinum accessories. But this could be more to do with poor quality designs and craftsmanship than the metal's appeal.
In fact, the same report stated that 35 percent of consumers polled had put off buying jewelry made from platinum because they could not find the designs they liked. Finally, the report concluded a wider range of products were needed to meet increased demand from shoppers.
To underline the point, a document released by luxury retail service platform secoo.com showed the sector for upmarket male brands is growing, according to an International Business Daily report.
Rapisarda is banking on that. His company Antora is looking at traditional Chinese cultural motifs, such as zodiac symbols, to provide inspiration for new product designs.
"Before the Chinese New Year in 2018, we are going to launch silver pens decorated with jewelry," he said. "I got the inspiration from Chinese calligraphy."
Data from Euromonitor International revealed that revenue generated from men's luxury jewelry retail jumped from 2.27 billion yuan ($344 million) in 2012 to 2.54 billion yuan last year.