Ziroom relies on credit ratings to vet long-term tenants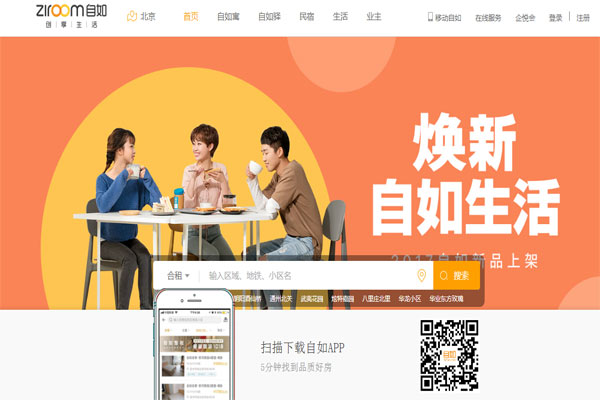 A screenshot of Ziroom.com's website. Users can download its mobile app for long-term residential leasing in China. It said it will ensure the rooms are equipped with smart furniture.CHINA DAILY
Ziroom, a Chinese app similar to Airbnb but for long-term rentals, is planning to use individual credit ratings of users, rather than cash deposits, to authenticate leasing transactions.
The company, which is China's fourth-largest online residential leasing app, will also use smart technologies and built-in smart furniture in the rooms they are hiring out.
"We will make use of our alliances with other financial technology companies such as Zhima Credit, a unit of Alibaba subsidiary Ant Financial, to gauge the creditworthiness of our future tenants," said Xiong Lin, chief executive officer of Ziroom. "Clients with good credit records can rent places without paying any deposit."
Most of the Chinese house rental firms usually charge five months' rents at one go-one month rent as deposit, three months rent payable in advance and an extra one as agent fee, posing a heavy burden for new tenants. According to Ziroom's data, around 30 percent of the app users can benefit from the new policies.
Xiong also said Ziroom is in talks with other fintech companies to create a bigger data sharing network.
Ziroom is not the first app-based platform that is challenging traditional industrial norms. Ant Financial launched a similar system in eight pilot cities including Beijing and Shanghai, allowing qualified tenants to skip the deposit fee. Over 1 million houses will be listed on its platform.
Yan Yuejin, an analyst at a property information provider E-house China R&D Institute said credit management has so far been a grey area in the Chinese market.
"Companies like Ant Financial and Ziroom are introducing personal credit scores in the house-leasing business. This will create a new mechanism and a regulation system in the market," Yan said.
"Such innovation within the fintech sector may rock the traditional market," said Chen Sheng, president of the China Real Estate Data Academy. "House rentals are an over a trillion yuan market in China and the financial data of consumers is very vital to the business."
But some industry players are doubtful whether the credit rating system would impose sufficient safeguards as a good credit score from fintech players like Zhima Credit does not necessarily translate into sufficient bank credit.
"It does not cost too much for tenants to violate contracts," said Liu Xiang, CEO of Uoko.com, a Chengdu-based online leasing website. "The penalty system is yet to be further explored.
"Internet-plus house-leasing" agencies have been on a bumpy road especially when it comes to competing with brick-and-mortar agencies in residential areas. The traditional leasing agencies have easy access to housing resources and the ability to make quick deals."
Dingding, an online-to-offline app that was launched in 2015, made a market splash by claiming no agent fees. It lost 200 million yuan ($30 million) and did not make much headway in securing real estate resources. Its parent, Lianjia, China's largest real estate broker, pulled the plug on the venture in 2016.
Some internet-based leasing firms are using innovation to secure resources and attract users. One solution Ziroom has utilized has been to take over the flat from the landlord and furnish it in an appealing way.
In the future, the company plans to introduce smart furniture, such as fitness equipment and television programs that charge by the minute. Tenants can also use the laundry on a pay-as-you-go basis. Xiong said such upgrades will suit youngsters and reduce the trouble for interior decoration.
However, Andy Xu, a 27-year old postgraduate who is currently looking for a place in Beijing via Ziroom, said while such changes will ease the living burden, it would make the room less of a home.