WeWork intensifies co-working race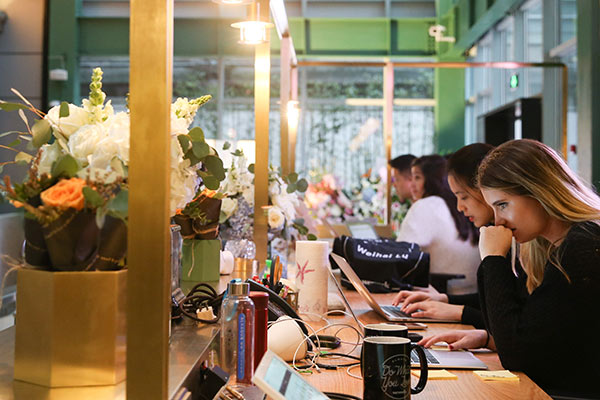 Young professionals at work at a co-working space of WeWork in Shanghai. This facility was rebuilt on a traditional English-style building, and is WeWork's flagship in Shanghai. [Photo/Xinhua]
Co-working space provider WeWork has launched enterprise solution in China, targeting companies with 1,000 or more employees.
The company provides workspace solutions and community settings, according to Christian Lee, managing director of WeWork Asia.
Enterprise members with employees exceeding 1,000 make up 25 percent of WeWork customers.
WeWork said it has more than 1,000 such customers in China, including prominent names such as Ofo, the bike-sharing startup, Damai.cn, an online ticketing platform, and Zhaopin.com, a recruitment website.
Yoga-wear brand Lululemon Athletica, broadcaster Discovery and management consultant Boston Consulting Group also use WeWork spaces across China.
"Our enterprise members represent 12 million employees globally," said Lee.
The company is keen to make workplaces lively spaces where people could work in joy and interact freely, he said.
"This is an opportune time to launch the next phase of WeWork China. We will continue to provide a global platform for more Chinese startups to grow," he said.
As Chinese fledgling startups expand globally, WeWork could contribute to their expansion and success, he said.
"A small company can have global clients, and when they travel to other cities in China or meet clients in other countries outside China, we can help them find offices with ease, which would enable them to expand their business fast."
Numerous companies have expanded through WeWork, he said. For instance, Mioying, a fintech firm, expanded from a seven- to 30-desk enterprise; and O+O Shanghai Technology expanded from a 150-desk startup to a 500-desk business.
Similarly, automobile maker Xiaopeng Automotive is planning to expand from 150 to 500 desks in the next few months, he said.
In China, the number of co-working space providers has grown in the past two years.
A handful of local operators such as Soho 3Q and UrWork have intensified competition. Foreign investor-backed operators such as NakedHub are also expanding fast.
WeWork set up its China arm in July to offer localized services. With a $500 million China-dedicated fund backed by Hony Capital and SoftBank, WeWork is accelerating its expansion.
The company plans to open four sites early next year in Beijing and Shanghai.
At WeWork, 70 percent of its existing members have already collaborated with one another, and 50 percent have done business together, which brings a sense of community that offers business opportunities to members, the firm said.
This is one of the core values of WeWork, according to Alan Ai, general manger of WeWork's China operation.
Market analysts said that just like co-working, another new concept is becoming popular. Co-living is a residential rental model that brings young professionals together in a community.
When integrated, co-working and co-living could be a trend in China's office rental and residential rental markets, they said.
Startup founders and freelancers tend to live and work with collaborators, generating business as well as social networking opportunities among themselves.
A research note from Beijing-based CICI Consultancy Ltd said, "More brands are integrating co-working and co-living services, or co-working operators are increasingly collaborating with rental operators that offer short stays, holiday inns or B&B (bread and breakfast facilities)."