Honeywell bets big on growth in China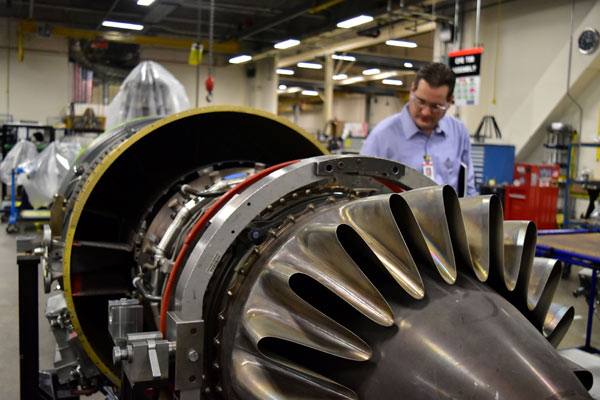 An aircraft engine being built at Honeywell Aerospace in Phoenix, Arizona, the United States. [Photo provided to China Daily]
Industrial conglomerate Honeywell said on Friday that China is currently the single largest contributor to its global growth and it was committed to expanding business in the country.
The US firm's over $2.4 billion business in China has been clocking double-digit growth rates this year and accounted for over 20 percent of its annual growth, according to Shane Tedjarati, president of Honeywell Global High Growth Regions.
Tedjarati, who was part of US President Donald Trump's business delegation to China, said the company was also confident that the deepening bilateral trade cooperation between China and the US would be beneficial for both countries.
Honeywell's high-growth regions consistently drive more than 70 percent of the company's growth and China has the biggest chunk of that, he said, adding that China is already the company's second largest market since 2013 and has been its focus for more than a decade.
Honeywell signed two agreements with Chinese companies Oriental Energy and Spring Airlines in Beijing during US President Donald Trump's state visit to China this week.
China's Spring Airlines selected Honeywell's suite of advanced cockpit technologies and industry-leading auxiliary power units for its future fleet of Airbus A320neo aircraft, while Honeywell UOP, a strategic business unit of Honeywell's performance materials and technologies division, has also signed a memorandum of understanding with Oriental Energy on the adoption of UOP's C3 Oleflex units in Oriental Energy's five new propane dehydrogenation (PDH) projects to help convert propane into propylene.
Tedjarati said the agreements, another significant milestone in the relationship that Honeywell has had with China since first establishing itself here in 1935, will advance cooperation in China's oil and gas and aviation industries.
"The deals in energy during Trump's visit are mostly long-term ones, which will create jobs, ease the trade deficit and boost bilateral economic cooperation to a new level," said Han Xiaoping, chief information officer of China Energy Net Consulting.
"We are committed to being the Chinese competitor, and to providing worldclass products and solutions to the Chinese marketplace," said Tedjarati.
Zou Shuo contributed to the story.