Chinese firms to help build Alaska LNG pipeline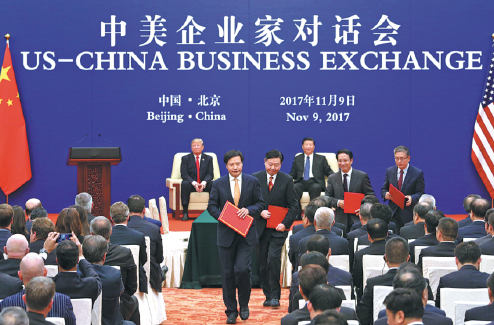 President Xi Jinping and US President Donald Trump attend the closing ceremony of the US-China Business Exchange in Beijing on Thursday. The two presidents delivered speeches at the event. WU ZHIYI/CHINA DAILY
China's oil major China Petroleum and Chemical Corp, Bank of China and CIC Capital Corp have agreed to help develop Alaska's liquefied natural gas sector by providing assistance to building a pipeline project.
The three State-owned companies signed a joint development agreement with Alaska Gasoline Development Corp and the State of Alaska on Thursday to jointly build an integrated LNG system including a long-distance gas pipeline connecting a gas treatment plant at the North Slope of Alaska with a liquefaction plant in Nikiski Bay in south-central Alaska. The system, rated at 20 million metric tons a year of production, would include other interconnecting facilities.
Sinopec said it will participate in later commercial discussions on the Alaska LNG project to contribute to China-US energy cooperation.
The agreement was signed on Thursday in Beijing during US President Donald Trump's state visit to China.
Xiao Lian, director of the Center for US Economic Studies at the Chinese Academy of Social Sciences, said Sino-US energy cooperation will be a win-win for the world's two largest economies.
"It will create employment for the US while ensuring a long-term oil and gas supply for China, while having a significant role in global oil and gas stability," he said.
"With more players on the global oil and gas market, the sector will be no more monopolized by a few players, which plays a significant role in price stabilization and energy security."
While China is the world's largest oil and gas importer, the United States is expected to become one of the top oil and gas exporters with its increasing exploration of shale oil and shale gas, he said.
Li Li, an energy research director at ICIS China, a consulting company that provides energy market analysis, said the US is expected to become a major export hub of liquefied natural gas.
The US already has energy cooperation with South Korea and Japan, and it is believed the cooperation will soon extend to China, the biggest potential market for natural gas, she said.
Platts Analytics forecasts that China will surpass South Korea to become the world's second-largest LNG importer next year. While South Korean LNG demand is expected to remain under 40 million tons in 2018, Chinese LNG imports are expected to continue to grow aggressively, reaching nearly 50 million tons in 2018.