China's major toy retailer Kidsland plans to raise $56m in HK IPO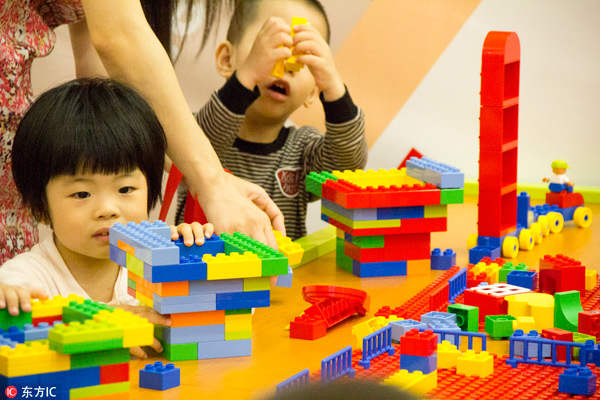 Children play Lego at a supermarket in Guangzhou, Guangdong province. [Photo/IC]
China's major toy retailer Kidsland International Holdings Limited opened its subscription on Tuesday, amid the company's efforts to raise up to HK$440 million ($56.4 million) in its Hong Kong IPO.
The subscription offering will last until Friday, and Kidsland's shares will trade on the main board of the Hong Kong stock exchange on Nov 10. Haitong International Capital is the sole sponsor for the offering.
According to the company's prospectus, the number of shares under the global offering is 200 million, of which are 20 million Hong Kong offer shares and 180 million international offer shares, with offer price ranging from HK$1.50 to HK$2.20 per share.
The prospectus also revealed that 61 percent of the net proceeds from the global offering will be used to expand Kidsland retail network in Chinese mainland and Hong Kong, with 18 percent allotted to strengthen company's capabilities in product development under existing or new brands, while 11 percent will be used to develop experience centers and associated products and 10 percent for working capital and other general corporate purposes.
The company, the largest toy retailer by retail sales value in 2016, is engaged in the retail and wholesale of mainly toys and infant products in Chinese mainland and also involved in Hong Kong's toy retail, with Danish toymaker LEGO as its largest brand owner.
From the fiscal year of 2014 to 2016, Kidsland purchase from the LEGO Group and sales of LEGO products continually accounted for more than 60 percent of the total, though other brands, such as Silverlit, Chicco, Siku, Schleich, Brio, K's Kids and Aprica, also had cooperation with Kidsland.
Meanwhile, the possibility of losing exclusive distribution right to sell LEGO products in certain distribution channels and/or failing to renew the 2016 LEGO Agreements with the LEGO Group and competition from its wholesale customers and new business partners of the LEGO Group are some of risk factors to Kidsland's business.
However, given increasing disposable income, progress in urbanization, and the more relaxed population control enabling more couples to have two children, the prospect for the toy retailing industry in China is expected to see ongoing growth, said the prospectus.