Green companies set to soar on policy boost from Congress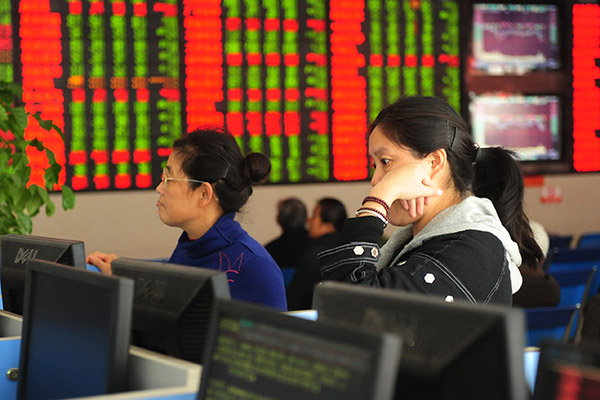 Investors check stock prices at a brokerage in Fuyang, Anhui province. The top leadership's call for sustainable development and green economic growth has boosted investor sentiment toward companies involved in environmentally friendly businesses. [Photo/for China Daily]
'Lucid waters and lush mountains' speech gives some A shares fresh energy
A-share companies that offer solutions for environment management, environment protection and pollution control are likely to benefit long-term from China's strengthened policies for "green development", said analysts.
At the 19th National Congress of the Communist Party of China last fortnight, President Xi Jinping reaffirmed the country's commitment to push forward green development.
On several occasions in recent months, Xi sought to underline the importance of green development, and that "lucid waters and lush mountains are invaluable assets".
The top leadership's call for sustainable development and green economic growth has boosted investor sentiment toward companies involved in environmentally-friendly businesses.
For instance, shares in Guangdong Liantai Environment Protection Co Ltd, a wastewater treatment solution provider, rose from 18.1 yuan ($2.73) by the end of September to 23.08 yuan on Friday, up 27.5 percent, on the Shanghai Stock Exchange.
Shares in Shanghai Environment Group Co Ltd, an urban solid waste treatment services provider, rose from 24.1 yuan at September-end to 27.49 yuan on Friday, up 14 percent, on the Shanghai Stock Exchange.
Shares in Beijing Qingxin Environment Co Ltd, an air treatment solutions provider, rose 8 percent from 21 yuan at September-end to 22.68 yuan on Friday on the Shenzhen Stock Exchange.
China has launched a series of policies to improve management of water, air, soil and waste treatment.
For improvement of water quality, the "River Chief" system requires supervision of each water body by a local official. He or she has to prevent any further harm to the water. This has entailed collaboration at various levels among multiple government departments.
Water treatment technologies, solutions and innovative ideas are shared among localities, pushing up demand for quality solutions.
Local government efforts for a healthy ecology are reviewed annually and nation-wide inspections are done every five years. The next such inspection will be in 2018.
"Environment protection and improvement, as a sector, has been put in a significant position," said a research note from Sinolink Securities.
The note said that from a policymaking perspective, the environment tax, which will be imposed in 2018, will strengthen inspections of local governments' efforts for environment improvement, spurring demand for related services and solutions.
Jiang Chao, an analyst with Haitong Securities, said China's economic growth pattern is shifting from rapid pace to quality, with focus now more on sustainability, green development, balance and optimized structure of growth.
Development in both rural and urban areas, and consumption upgrade will also increase demand for improved environment treatment solutions, said Huatai Securities.
Water, waste and air treatment facilities are included in the blueprint for tens of industrial new cities across China. Environmentally-friendly solutions will be integral to the development of new cities that will be built from scratch.
According to a brokerage's research note, consumers' preference for a better environment will spur service providers in both public and private sectors to consider such solutions.
Developers of residential properties and facilities such as schools, parks and theaters will include more environmentally-friendly products than ever before while finalizing their procurement budgets.