Making millennials fashionable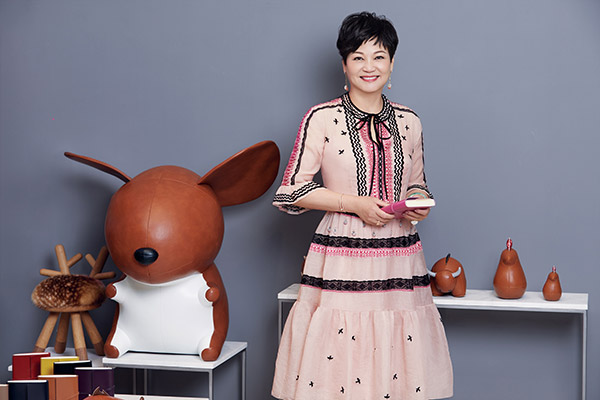 Irene Lau, vice-president of Lane Crawford China. [Photo provided to China Daily]
As the middle class goes affluent, Irene Lau sharpens Lane Crawford's focus on luxury retail in China
Lane Crawford, one of the world's established department stores, is the latest among the brands and chains to be lured by China's growing young middle class.
Irene Lau, vice-president of Lane Crawford China, is betting big on the future of the luxury retail business in the country. She believes the millennials (those born in the 1980s and 1990s) will be the next strong driver of the 167-year-old company's growth.
Lau has an almost instictive sense of where the future is heading. "Millennials love living a quality life ... they like travelling, caring about their individuality, and have different pursuits to match their lifestyle. To woo them, we've brought iconic fashion such as denim, street styles and premium sporty brands to them," she said.
In the beauty segment, she analyzed the latest trends among Chinese consumers and brought in high-end cosmetics and wellness brands such as Tom Ford, Valmont and BKR, which used to be hard to find in China.
Featuring top-notch designers' portfolios covering clothing, cosmetics, fine jewelry, home and lifestyle products, the store now has over 1,000 brands to offer.
Lau joined Lane Crawford in 1988. Ever since, she never ceased to catch up with the next generation.
Combining her taste for fashion and her ability to respond promptly to market trends, she brought a new vitality to the luxury department store.
In 2007, she took lead and built Lane Crawford's new branch in the Chinese mainland. By 2014, four stores were set up in Shanghai, Beijing and Chengdu under her leadership.
Now, the company has more than 800 employees in the mainland and posted double-digit growth in sales revenue last year.
In 2015, she started her term as vice-president, proving that the perceived glass ceiling in corporate hierarchy is not unbreakable. She is ambitious to make the 100-year-old chain a go-to destination for China's quality-minded young consumers.
"We are devoted to bring the trendiest products to the consumers as Hong Kong-headquartered Lane Crawford has abundant and exclusive resources and supplies from all over the world," Lau said.
"We have a buyer team covering the world's top fashion shows around the globe. They buy the items using their vast experience, so our customers will always have the most fashionable products as soon as they come out."
Apart from housing well-known designers and brands, Lane Crawford launched the "Created in China" and the "Creative Callout" programs in 2013 and 2015 respectively, to look for more creative and talented designers among the emerging talents.
"In the future, we'll focus on products that are exclusive to Lane Crawford, increase the variety and categories to meet the rising demand from Chinese customers for unique and boutique designers' works," Lau said.
Aware that Chinese millennials' preferences are shifting from expensive products to unique and personal stuff, Lau said she would emphasize customized service by offering personal styling services.
"Our stylists provide personal and professional fashion advice to our customers, and give them suggestions as per their aura," she said. "What's more important is to help them better define themselves and really improve their personal characteristics."
During the consumption upgrade in China, Lau discovered that not only young shoppers but also how they shop have changed. As e-commerce is booming, the last thing she wants to see is Lane Crawford lagging the trends.
"E-commerce is going to be a highlight of the future of the 1850-founded company. We'll make our business well connected with it," Lau said. "Our customers will not only be able to buy things off Lane Crawford's online shop, no matter where they are, but also gain full access to our fashion categories to stay ahead of the latest trends."
In 2011, the department store launched its Chinese online shop to supplement and complement its brick-and-mortar shops, so that its customers could optimize their shopping experience. The latter can access basic information online without having to travel all the way to the shop.
It is also the first iconic luxury department store that operates both online and offline businesses in China.
Through the company's online service, users can also receive fashion advice from their personal stylists.
To make the latest fashion even more accessible, Lane Crawford will promote its business in China's rising second- and third-tier cities.
This would mean it will soon expand from a four-shop department store chain with presence in just three Chinese cities to providing its platinum suite concept to potential customers.
"We're quite aware of the growth potential in those cities outside Beijing, Shanghai and Chengdu and we've many fans there too," Lau said. "Since last year, we've been sending our fashion teams to Tianjin, Chongqing and Suzhou and present the latest trends and related products to them."
Lau said this year the promotions will also cover Xi'an.