Tsingtao revs up on Asahi stake sale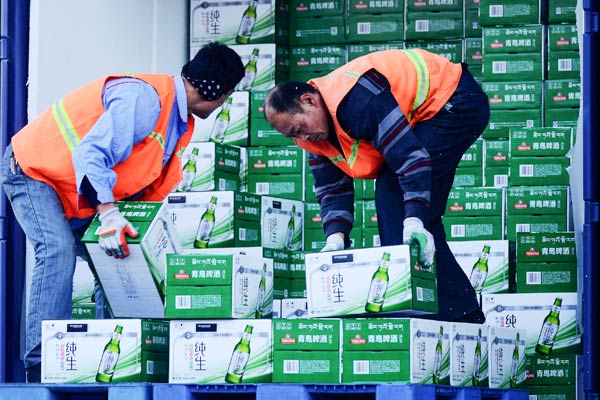 Workers upload cartons of beer at a Tsingtao Brewery Co Ltd plant in Qingdao, Shandong province. [Photo by Yu Fangping/For China Daily]
Shares of Tsingtao Brewery Co Ltd rose nearly 5 percent on Friday after the beer maker confirmed that its second-largest shareholder Asahi Group of Japan was selling all or part of its stake in the Chinese company.
Shanghai-listed Tsingtao Brewery jumped by 4.99 percent to close at 32.85 yuan ($4.98), while the benchmark Shanghai Composite Index rose 0.13 percent.
Currently, Asahi Group holds a 19.99 percent stake in Tsingtao Brewery. In a statement, Asahi said that it did not have any further details to disclose at the moment, though industry insiders termed the move as part of the steps initiated by the Japanese group to gradually withdraw from China.
In recent years, Asahi Group has been selling several of its operations in China, including beer and other products, and has shifted its focus to Europe.
Last year, Asahi sold its subsidiary, Shandong Asahi Green Source High-tech Farm Co Ltd, to diversified Chinese conglomerate New Hope Group Co Ltd, as it failed to make profits from its agricultural venture.
In June, Asahi sold its remaining 20.4 percent share in Master Kong, China's leading instant food and beverage brand, after selling a 10 percent stake in the company last year, ending 13 years of cooperation between the two firms.
At the same time, Asahi Group has invested nearly 10 billion euros ($11.8 billion) for acquiring several beer businesses in Europe.
Zhu Danpeng, a researcher at the China Brand Research Institute specializing in food and beverage business, said the reasons that Asahi Group is eager to sell its business in China is related to Sino-Japanese relations and its strategic European focus.
"Asahi's focus is now in Europe, and it is shifting its main business to those products with high gross profits, so there are certain trade-offs for its traditional business," he said.
"In addition, Asahi is looking at a strategy to minimize business risks. Most of the enterprises it has invested in Europe have been at cheap prices, whereas in China, the beverage and beer industry is witnessing intense competition."
In August 2009, Asahi Group bought 19.99 percent of share of Tsingtao Brewery from Belgian-Brazilian beverage and brewing company ABInBev for $670 million.
Though the beer industry has been witnessing a downtrend in China in recent years, it has started to stage a recovery since the beginning of this year, with Tsingtao Brewery being one of the better performers.
The company also increased its market share in the high-end market in China with its product upgrades.