Walmart to open more hypermarts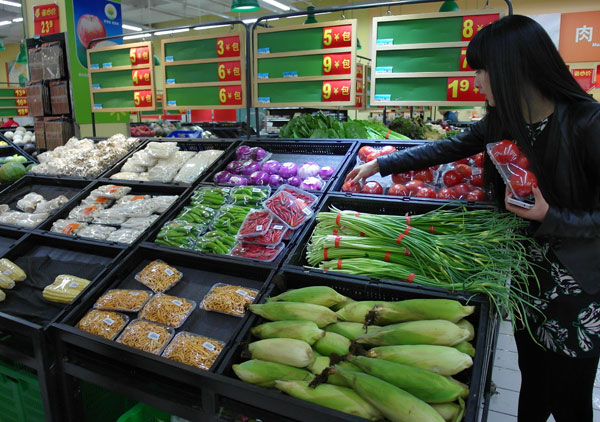 A customer chooses vegetables at a Walmart store in Yichang, Hubei province. [Photo by Liu Fengjun/For China Daily]
Walmart, the world's largest retailer, is planning to open more compact hypermarkets in China with upgraded facilities, as it seeks to cater to the increasingly high-end and diversified demands of younger consumers.
Earlier this week, the company said in Beijing that it would open 30 to 40 hypermarkets in the country every year, including in major cities and smaller cities, and more compact hypermarkets. Most of the compact hypermarkets are nearly 40 percent smaller than the usual.
Currently, Walmart has more than 400 hypermarkets in the Chinese mainland, including three compact hypermarkets in Shanghai, Kunming in Yunnan province, and Wuhan in Hubei province.
These compact stores have more restaurants and service-oriented shops in the rental areas, and more automatic facilities such as self-service weighing machines and self-service checkout desks.
"As one of the fastest-growing markets globally, China has significant room for growth, and we plan to do more innovations in the forms of operation," said Wern-Yuen Tan, president of Walmart Stores China.
"At the compact hypermarkets, we will put more efforts into distributing more fresh food, and raise the proportion of fresh food in the stores," he said.
Neil Wang, president of consulting firm Frost & Sullivan China, said fresh food is the core competence of supermarkets.
It is also a talisman for physical supermarkets to compete with e-commerce platforms, as supermarkets have advantages over online shopping in ensuring the freshness of food, he said.
Meanwhile, the retail giant said it will launch more own-label products, including snacks and tissues, at its hypermarkets in China. Walmart said the proportion of the products in its own brands will increase from 5 percent to about 10 to 15 percent, and they will carry price tags that are about 30 percent cheaper than the peers.
"Compared with other brands, own-label products of supermarkets are usually cheaper, and they can help supermarkets to get higher gross profits. They can even set up specialized labs to research and develop more innovative products in their own brands, as this will help to lower the costs, raise customer loyalty and brand awareness," Wang said.
"In the next few years, the penetration rate of own-label brands in the supermarkets will increase gradually in China, where it is much lower than they are in Europe and the United States at present."
Wang added that supermarkets retailers in China could consider other retail models like boutique supermarkets, fresh food supermarkets and convenience stores.