Upgrading industry should be a priority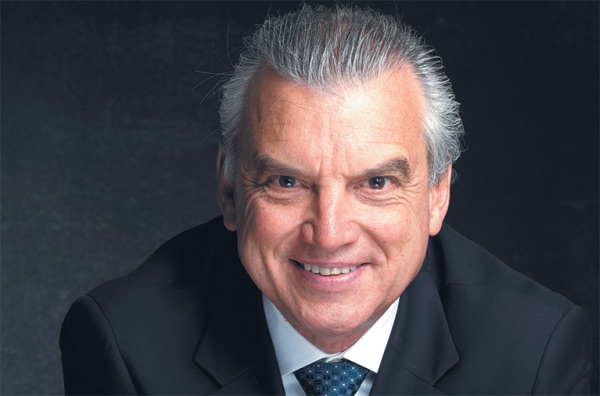 Paulo Cesar Silva, CEO of Embraer. [Photo provided to China Daily]
Editor's Note:
The Communist Party of China will hold its 19th National Congress on Oct 18. In the runup to the meeting, China Daily interviewed business leaders from major multinational companies for their views on economic developments here and the country's global leadership role.
Environmental protection linked to sustainable growth will also be vital for the country's long-term future 
Paulo Cesar Silva is CEO of Embraer SA, an aerospace conglomerate based in Brazil.
What do you feel has been China's biggest achievement during the past five years and what is its most notable change?
The country is now a responsible and influential nation in the world in terms of its economy, diplomacy and culture. We have witnessed China's greatest achievements in the past five years and not just in the field of economics. There has also been great progress in modernization, innovation and globalization.
Economically, China surpassed Japan in 2010, when it came to GDP (gross domestic product) to become the second largest economy in the world. And GDP growth has remained steadily (at 6.9 percent in the second quarter of this year), demonstrating unprecedented dynamics.
The internationalization of the renminbi and the establishment of the AIIB (Asian Infrastructure Investment Bank) have also demonstrated China's success in today's global economic environment.
Diplomatically, China is becoming one of the most important and responsible major nations, promoting global trade against the rising backdrop of protectionism.
The country has also staged a series of high level international meetings and sporting events with the Winter Olympic Games (due in 2022).
International cooperation through the Belt and Road Initiative will accelerate the development of a host of key economic drivers such as trade, infrastructure construction, aviation and tourism.
For Embraer, there are 70 operators using our commercial jets in the region. The Belt and Road Initiative will further stimulate development and cooperation inside the aviation industry.
What three words would you use to describe China today?
Dynamic. Developed. Leadership.
What is the biggest challenge China faces and how can the country overcome it?
China has produced an economic miracle in the past 30 years. But this achievement has been largely attributed to labor intensive industries. To continue this development in a sustainable way, there are still challenges the country will need to face.
First of all, upgrading industry should be the main priority as China continues its steady and sound economic progress. Secondly, environmental protection and sustainable development are also important for the country's long-term future.
Thirdly, to cultivate enterprises based on independent innovation and high-tech industries will further improve China's competitiveness in the global market.
As always, Embraer is ready to support the country's moves to upgrade industry. We are open with our Chinese partners when it comes to industrial cooperation and high-tech aircraft manufacturing here. We believe the future is very bright.
What are your expectations for the 19th National Congress of the Communist Party of China and what key issues will you be watching for?
It is a crucial event. It will decide the direction of future development in China and produce a blueprint for the country. The 19th National Congress of the Communist Party of China will also attract global attention.
Besides domestic policies, we will be interested in the economic signals, which will come out of the congress, such as foreign investment, industrial cooperation, and upgrading and transforming industry.
What is your impression of President Xi Jinping?
President Xi was very impressive during his speech at the BRICS (Brazil, Russia, India, China and South Africa) Summit in Xiamen (East China's Fujian province) in the summer. He is a very talented political leader and is full of personal charm.
China is going through a period of great achievements and changes under his leadership. We expect that to continue in the future as the economy underlines its dynamic qualities and strength.