Costa ramps up China ambitions with 35 million pounds investment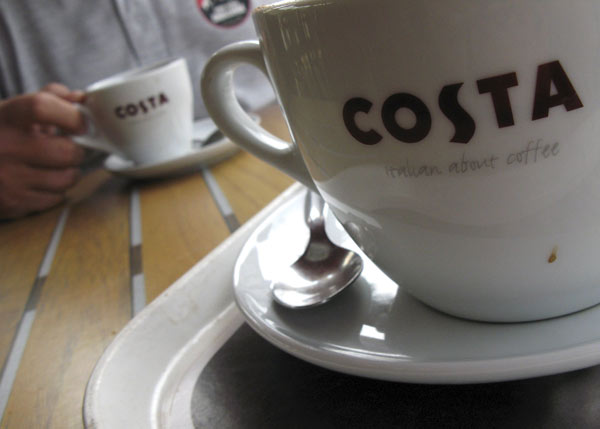 A man drinks at a Costa Coffee branch in Loughborough, central England June 17, 2008. [Photo/Agencies]
Leisure group Whitbread, the British owner of coffee chain Costa, has paid 35 million pounds ($46 million) to buy out a joint venture partner in China as it looks to capitalize on a growing thirst for coffee in the country.
Yueda Group, a diversified conglomerate based in Yancheng, Jiangsu province, sold its 49 percent stake in Costa's South China operations to Whitbread on Tuesday.
Whitbread, which also owns the Premier Inn hotel chain and several restaurants, now has full control of the 252 Costa coffee shops in the region, including 93 stores in Shanghai.
The British company has a further 156 Costa stores in North China that operate in an evenly split joint venture partnership with retailer Beijing Hualian Group, which is also known as BHG. Whitbread said this partnership is unaffected by the recent transaction.
Alison Brittain, chief executive of Whitbread, said: "The coffee shop market in China is highly attractive, with a compelling opportunity for Costa to grow its presence over the longer term. This acquisition gives us full strategic and funding flexibility to unlock Costa's potential in China."
Traditionally a country of tea drinkers, China is only the 17th largest consumer of coffee in the world, though demand is growing. Overall coffee consumption in the country rose by 16 percent each year between 2004 and 2014, according to the International Coffee Organization.
Last year, Whitbread announced plans to double the number of Costa stores in China by 2020, to 700. The company is banking on rising demand for store-bought cups of tea and coffee.
The market size for coffee shops in China has doubled since 2013 and was worth an estimated 20 billion yuan ($3 billion) in 2016, according to Euromonitor. The market researcher forecasts that coffee consumption in China will increase by 18 percent annually through 2019.
Whitbread and Yueda first opened three Costa cafes in Shanghai in 2007, and the company launched its first Beijing outlet with BHG the following year. Costa is now the second-largest international coffee chain in China by number of shops, behind Starbucks, which entered China in 1999 and has 2,800 stores.
Foreign brands are cashing in on China's expanding coffee shop culture. Australian chain Gloria Jean's Coffees entered the country in 2014 through a joint venture with Chinese restaurant group GouBuLi. In 2015, United States chain The Coffee Bean & Tea Leaf announced plans to open 700 stores in China in coordination with South Korean retail conglomerate E-Land.