ERG on road to success in China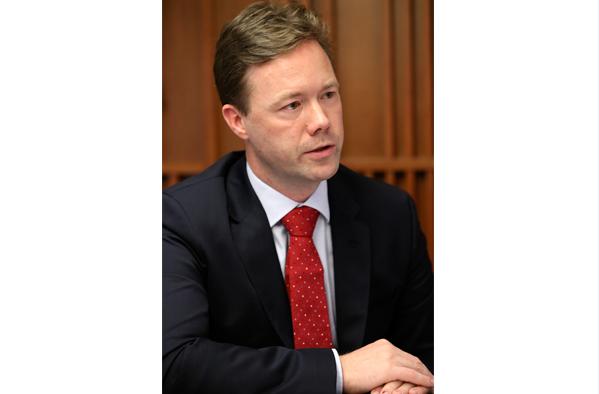 Benedikt Sobotka, chief executive officer at Eurasian Resources Group. [Feng Yongbin/China Daily]
Kazakh firm aims at largest cobalt supplier for nation's batteries in EVs
Eurasian Resources Group is making inroads into China's energy market by supplying a crucial ingredient for lithium-ion batteries.
The international metals and mining company is 40 percent owned by the Kazakh government and plans to become one of the largest cobalt suppliers to the world's second-largest economy by the end of 2018.
"At full capacity, 'Metalkol RTR', ERG's mine project in the Democratic Republic of the Congo, will be able to supply up to 21,000 metric tons of cobalt annually to the global market," said Benedikt Sobotka, chief executive officer of ERG.
"This is enough to build 2.6 million electric vehicles (EVs)," he added.
ERG's project in Congo is crucial for the company in the next two to three years as it takes advantage of China's economic transformation to further boost its market share in the country.
A report by Bloomberg New Energy Finance revealed that China became the largest market in the world last year for annual EV sales after overtaking Europe and the United States.
Li Li, an energy research director at consulting company ICIS China, pointed out that surging demand for rechargeable batteries, a core component for electric vehicles, is making cobalt one of the world's most desirable metals.
"The company's emphasis on China, as the largest energy market in the world, is a wise strategy," she said.
"Furthermore, cooperation in the energy field will lead to other related sectors, such as investment, finance and techniques," Li added.
Indeed, ERG was also involved in the first Belt and Road Initiative project when it helped to set up the Kazakhstan Aluminium Smelter JSC, a flagship company dealing in metals.
"China has evolved from an export-oriented country into a more consumer-oriented one, calling for (key) changes in related areas, including the financial sector," CEO Sobotka said.
"Given China's growing demand for commodities from Africa, we expect the country will be interested in equity purchases, which will enable it to invest in the sector," he added. "This will help develop assets in Africa."
ERG's vision for the next five to 10 years involves closer integration with a wide range of Chinese partners and launching more deals with Chinese companies across an array of sectors.
Last month, the group was part of a consortium that signed a $2.4 billion memorandum of understanding for infrastructure projects with the state of Bahia in Brazil.
Chinese companies involved included China Railway Group Ltd, China Communications Construction Co and Dalian Huarui Heavy Industry Group Co Ltd.
"The integrated iron ore (project), deep water seaport and railroad development will create one of the lowest cost iron ore producers globally," said Sobotka.
"We believe China has a bright future ahead," he added.
"The country understands the best way to develop its economy is through supporting other countries' industrial development, as well as pursuing trade agreements."