VistaJet takes off among younger travelers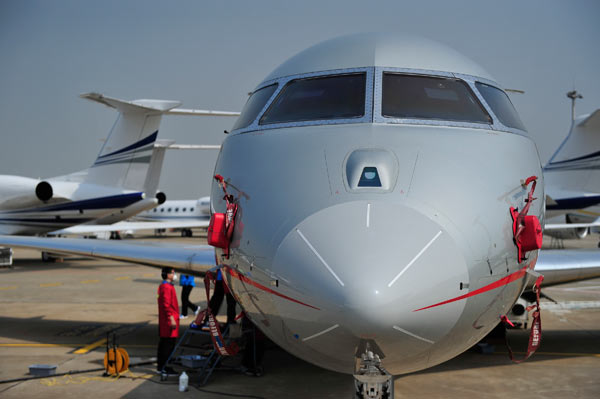 A Bombardier BD-700-1A10 Global 6000 of VistaJet is on show during an expo held in Shanghai. [Photo by Yang Chun/For China Daily]
Younger customers and more executives from technology firms on the Chinese mainland are using private aviation services, according to Thomas Flohr, founder and chairman of VistaJet, the world's first full ownership private jet company.
Flohr said younger customers including millennials are joining VistaJet, many of whom already have a good knowledge and understanding of private aviation.
Traditionally, its jets have been used by executives in the oil, mining, energy and real estate industries, according to Flohr, but now more at technology, financial services and education executives are coming on board.
"The minimum net worth of our typical customers is $200 million and they are aged from their late 20s to their 50s," said Flohr.
According to Flohr, 17 percent of its customers are from China, and they fly around 100 to 200 hours a year with the company. "Private jet business on Chinese mainland is still relatively new and it is our great focus within the Asia-Pacific region," said Flohr.
Flohr said that Chinese customers prefer aircraft with a larger cabin, for example the Global 6000 and the Challenger 850, which has a capacity for 14 passengers and seven possible sleeping areas.
Flohr remained VistaJet's chairman and majority shareholder after the company recently raised $200 million from global private-equity firm Rhone Capital, which will take seats on the company's board but won't be involved in management.
Flohr is the first entrepreneur to build a business model offering a flight-hour subscription model across an entire fleet of jets flying customers anywhere and at any time.
"The fractional ownership business model in private aviation business is dead," Flohr said. "A full ownership company with $2.5 billion-in assets based, with a sharing economy concept for all big corporations to use, is the right choice."
Flohr said its infrastructure is still underutilized, as it can serve 100,000 hours per year but only 55,000 hours of usage is estimated for this year. He aims to grow 10 percent of the market share globally flying 200,000 hours a year for the company's next target.