Banks take bold step forward with face tech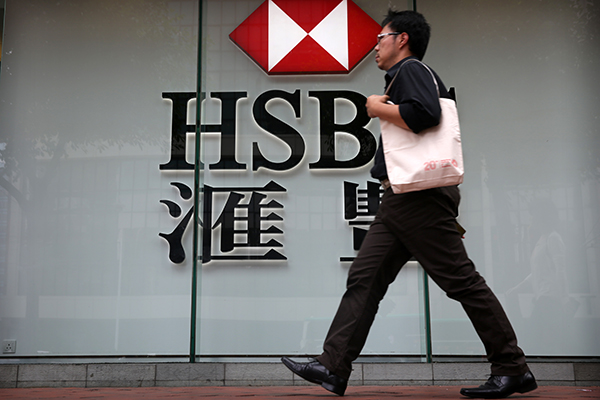 A pedestrian walks past a sign for the Hong Kong and Shanghai Banking Corporation bank in Hong Kong. [Photo/Agencies]
Growing numbers of financial players are joining in the race to equip financial products with advanced technologies such as facial recognition.
HSBC Holdings PLC, a British multinational banking and financial services holding company, launched facial recognition recently on its mobile banking platform in China, claiming the title of the first foreign bank to offer facial recognition for payments in China.
While dealing with retail banking businesses with HSBC's mobile platform, customers are now able to get access to their account using their mobile cameras to confirming their identity. The software performs an instant scan of the current user's facial features, and the user will be asked to make some facial movements or impressions, such as eye blinking, eyeball rolling or a swinging of the head, chosen at random.
This ensures the identity is that of a real person instead of a picture in front of the camera, which makes it safer than fingerprint recognition. According to the data from HSBC's laboratory, the mistake rate for facial recognition would be around one out of a million, while that for fingerprints is around 1 out of 50,000.
The newly added biometric authentication allows customers to transfer up to 50,000 yuan ($7,515) per day to new payees by combining facial recognition with passwords on their Chinese bank's mobile app, freeing them from the physical security devices typically used to make such transactions.
HSBC regards this change as a way of promoting its mobile payment business in China, one of the world's countries most receptive to new technology.
"Digital technology is rapidly evolving and customers are now able to bank more simply, quickly and in the most secure way possible," said Andrew Connell, Retail Banking and Wealth Management Head of Digital for Asia Pacific & Innovation and Partnerships at HSBC. "We see a huge growth opportunity in the adoption of technology for retail banking, not just in China but across the Asia Pacific region and around the world."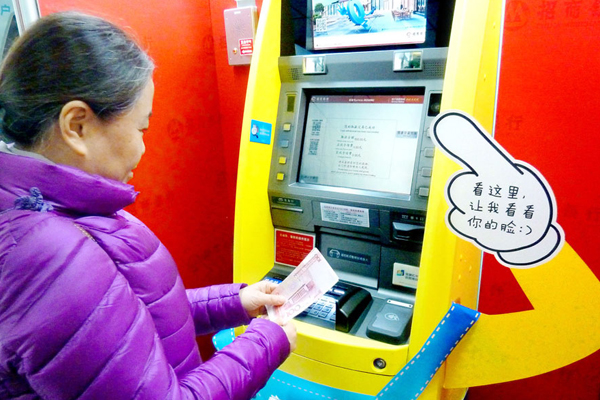 A woman withdraws money after a machine scans her face at a bank in Nanjing, East China's Jiangsu province, Nov 17, 2015. [Photo/IC]
With the technology already mature enough to be put into practice, many banks are now using it as an assistive method to authenticate identities of customers, such as China Merchants Bank, which equips their automated teller machines with the facial recognition system.
"It is a fascinating experience to use ATMs equipped with facial recognition system. I just need to let the machine scan my face for few seconds and then the operation is a go," said Mo Hao, a China Merchants Bank customer who teaches English at the South China Business College in the Guangdong University of Foreign Studies.
"Enjoying the convenience brought by such technology, we do feel like we have already come to live in a world we dreamed of in the past," Mo added.