Riding 5G to help China's SMEs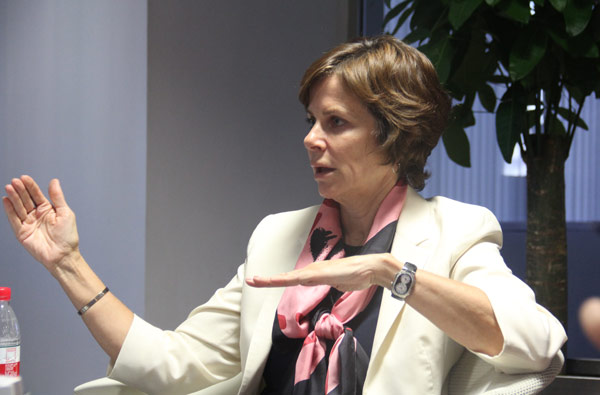 Amy Barzdukas, vice-president and chief marketing officer of Polycom, explains the company's strategy during an interview in Beijing. [Photo provided to China Daily]
Amy Barzdukas leads Polycom's efforts in China, which is 'an important and ever-changing market'
Amy Barzdukas, executive vice-president and chief marketing officer of unified communications provider Polycom, is a veteran blue chip executive.
She worked as a vice-president of worldwide marketing for HP's business personal systems group and had a 16-year career with Microsoft.
Polycom attracted her the most with its large-enough-to-execute, small-enough-to-impact company size and its ability to provide people with better communication approaches, Barzdukas said.
She joined a new executive lineup that includes CEO Mary McDowell and two other female executives. She brought her 20-year experience in the technology industry to Polycom.
Barzdukas has been to Shanghai and Guangdong before her first visit to Beijing. As a leader of a global company, she explained the reasons of visiting China.
"Without doubt, China is really an important and everchanging market for our company. The only way to know the local challenges is to go out and hear directly from the customers and partners about the present situation."
Asked about the challenges of rapid internet penetration, Barzdukas expressed her positive expectations of the Chinese market: "With the development of 5G (fifth-generation mobile networks), Polycom has been provided with tremendous opportunities to reach more less-developed cities and bring high-quality service to SMEs-small and medium enterprises-in China.
"Since the industry is undergoing tremendous digital transformation, we are currently focusing on full utilization of digital marketing."
Barzdukas said Polycom's next goal is to combine artificial intelligence and augmented reality.
"Our product is actually using artificial intelligence since it recognizes faces and presents to the other end. Augmented reality would also be strengthened to alter or block the background in our future products."
Barzdukas is positive about Polycom's future. "We've clear goals and we're on the way. At the end of the day, all that matters is delivering what customers want and we believe we'll succeed in that."
For a telecoms corporation, Polycom has a relatively high number of female executives-36 percent while the average is 19 percent, according to the 2016 Women in the Workplace report.
Barzdukas said that it was a coincidence rather than a deliberate selection: "It's a statement about the company that it continues to hire people based on their talent and experience instead of their gender. As far as I'm concerned, it's simply the right people being in the right place at the right time.
"It's important for an executive team to have diversity in both gender and thinking patterns as well. It helps you to ultimately perform as a team. Our customers are diverse in terms of shape, sex and size, so having a diverse team means we can better respond to their diverse needs."
She also said that the benefits female executives bring to the job accrue not only to the corporation but the whole society.
"It's of crucial importance to let the young generation be aware of what they are capable of doing, since you are mostly inspired by what you see-witnessing women in senior positions makes you understand you can actually realize your dreams."
She considers being a female executive and the mother of three at the same time the most significant achievement in her life.
"Being named CMO at Polycom would definitely be my top career achievement," Barzdukas said. "As a female executive, keeping a work-family balance is also a significant accomplishment."
With her husband also busy on business trips, it's a huge challenge for Barzdukas to keep a balance between her responsibility to her family and her career. "We've three kids and two dogs, so it's rather challenging."
Barzdukas shares a story to stress the importance of prioritizing. "My husband and I once talked about our kids' weekend plans when I was busy preparing for my Polycom presentation. He asked me what I'd want to miss. Frankly speaking, I couldn't bear to miss a single thing."
"However, I realized since then that lots of my work was self-imposed. I need to choose either devoting to the team and having Polycom remembering my presentation, or having my kids remembering their mom showing up at their game 20 years later."
Li Jiayue contributed to this story