Making a Chinese brand cool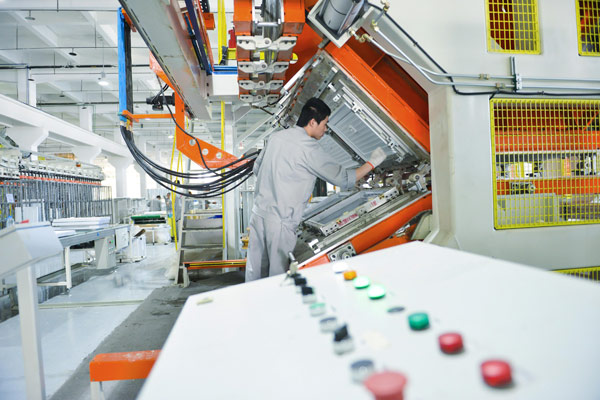 A technician checks equipment at a smart manufacturing plant of Aucma, one of China's largest refrigeration equipment suppliers. [Photo provided to China Daily]
Aucma redefines low-cost cooling technology with Arktek project for medical industry
Aucma Co Ltd, one of China's largest refrigeration equipment suppliers, is making efforts to reshape Chinese brands as trustworthy and responsible in the company's go-global strategy.
The Qingdao-based company is keen on improving its innovative capability through high-level international cooperation.
For example, in cooperation with Bill & Melinda Gates Foundation, the company developed a kind of portable passive cold storage device called Arktek, enhancing its cold chain technology to a higher level as well as international reputation.
Arktek looks like a green cartoon toy bucket, and can keep vaccines at as low as -80 C without extra energy support for a week, according to Ren Yizhao, deputy general manager of the Arktek project of Aucma.
The device has proved to be essential in transporting the Ebola vaccine during the outbreak of the disease in West Africa in 2014.
Statistics of the World Health Organization showed that some estimated 1.5 million children under 5 die each year globally from illnesses such as diarrhea and pneumonia that often can be prevented with vaccines.
Despite immunization being one of the greatest success stories in modern medicine, one in five children worldwide remains unprotected, without access to even the most basic vaccines globally. Some of the biggest challenges come from difficulties in delivering interventions like vaccines.
"With its excellent sealing performance, Arktek is easily delivered in rugged and rough roads and put at sanitary stations in remote areas as vaccine storage device," said Ren. "One Arktek barrel can meet the needs of a village of 6,000 people for a year."
Currently, Arktek has been tested in many countries such as Nigeria, India, Senegal and Ethiopia and received warm welcome by consumers there.
However, Aucma's Arktek success was not made in a day.
When Bill & Melinda Gates Foundation looked for a worldwide partner to invent a refrigeration device that could be used in countries with limited cold chain and ice pack production capacity, Aucma was among the candidates but not the most hopeful one.
Mark Suzman, president of the Bill & Melinda Gates Foundation's global policy, advocacy and country programs, said that Aucma is "a Chinese enterprise showing great potential for tackling development challenges in sub-Saharan Africa".
"And we share in common in devoting our intelligence and efforts to saving lives and improving health conditions in Africa as well as other countries."
Li Wei, chairman of Aucma Co Ltd, was longing for working with world-class teams and cherished the opportunity.
"Earning money is important but does not always take the first place," Li said. "To earn reputation internationally, Aucma needs to further consolidate its foundation in various areas first."
It took two years for Aucma to develop an Arktek reaching the WHO standards of quality, safety and efficacy after the cooperation agreement of 2013.
To date, Aucma has sold more than 2,000 Arktek barrels and the remaining market in Africa alone is estimated to be more than 30,000 units.
Globalgood, a research institute invested by Bill Gates, has sent several scientists to work with Aucma.
"Through working with and learning from scientists from the United States, our staff have been much inspired and improved their innovation skills," said Li.
To date, Aucma has also worked with German industrial giants like Siemens and Bosch. The latest progress is that the company has joined hands with Siemens to build a joint laboratory for robot application.
"The collaboration with Siemens brings the latest industry 4.0 technologies, as well as enables our staff to learn about the renowned German manufacturing spirit," Li said. "With Bosch, we've learned stricter standards of the Germans."
By working with international manufacturing giants, Aucma was able to sell its products to more than 100 countries and regions in Asia, the Middle East, Africa and Europe.
Last year, its total sales value stood at 3.75 billion yuan ($562 million); it sold 500,000 sets of products abroad for 620 million yuan, up by 4 and 20 percent year-on-year respectively.
With China's Belt and Road Initiative, Aucma sees more opportunities.
This year, Aucma set up two joint ventures in Malaysia and Nigeria, respectively; both are expected to start operations by the end of this year.
"The Belt and Road Initiative does not mean only selling our products or 'transferring overcapacity' to other countries and regions," said Li.
Aucma brings latest technical skills and managerial concepts to its overseas plants. It hires and trains a number of local staff, helping local economies to grow.
"We study local laws and regulations, respect and try to understand local cultures and insist on win-win or even allwin with local partners as well as consumers."
Founded in 1987 and listed on the Shanghai Stock Exchange in 2000, Aucma has products ranging from freezers, refrigerators to household appliances and other household products. It also specializes in cold-chain products, cold-chain logistics equipment, cryogenic equipment, washing machines, air conditioners and vending machines.
In June 2017, the World Brand Lab announced that Aucma was among the Top 500 Most Valuable Brands in China, with its brand value estimated at 28.6 billion yuan.