Vivo enters full-screen arena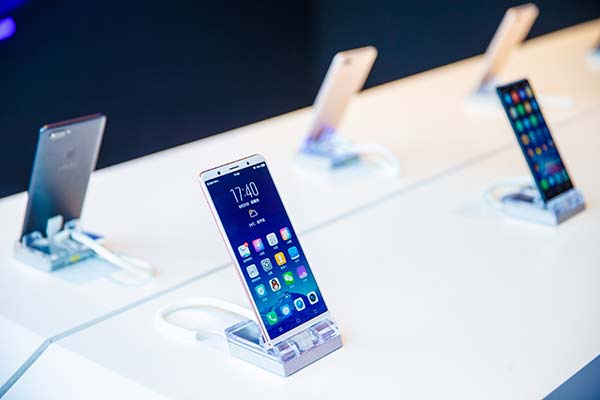 Vivo X20 on display in Beijing.[Photo provided to chinadaily.com.cn]
The smartphone battle in China is entering the full-screen era, as local players rush to launch bezel-less models enabled by rapid technological advances in the past year.
Vivo, a leading smartphone vendor in China, has unveiled its latest handset, the Vivo X20, which features a 6.01-inch super AMOLED screen. AMOLED, or active-matrix organic light-emitting diode, is the technology Apple Inc used for its latest iPhone X's full-screen design.
The cutting-edge screen technology offers lower power consumption, better color saturation and a slimmer structure.
"Thanks to the edge-to-edge display design, gaming enthusiasts can see bigger, clearer pictures when playing with Vivo X20, though the handset is roughly of the same size as our previous model," said Han Boxiao, product manager of Vivo's X series of products.
According to Han, one of the keys to delivering good full-screen experience is to offering new ways of unlocking smartphones, since the tactile home button is deleted.
"To deliver better human-machine interaction, Vivo X20 supports facial recognition technologies which can help us unlock smartphones by simply glancing at them," Han said.
Priced from 2,998 yuan ($451), the new device is hailed by Vivo as a milestone product, which marks the company's latest push to bring advanced technologies to the mass market.
Slim screen bezels used to be a niche but as advances in screen technology made it possible to mass-produce such products, it is now the latest trend to dominate the smartphone world and a standard feature in high-end devices.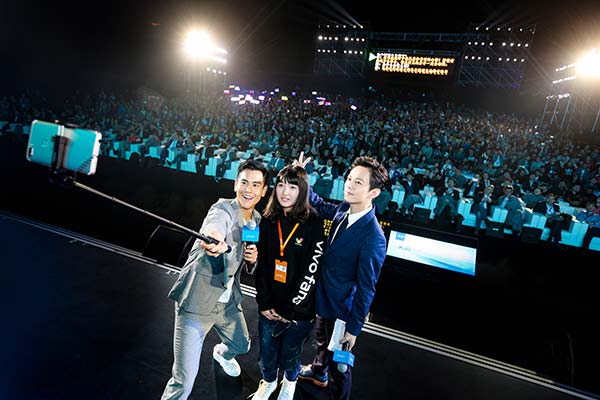 Eddie Peng Yuyan, celebrity ambassador for Vivo, took pictures with fans using the Vivo X20. [Photo provided to chinadaily.com.cn]
Chinese smartphone vendors such as Xiaomi Corp and Huawei Technologies Co Ltd also rolled out similar full-screen handsets.
To fend off competition, Vivo said its latest handset comes with improved dual-camera settings, which can take good pictures even in backlight.
The company said it has nearly 200 million users across the globe. In China, it is the third largest handset maker by smartphone shipments.
In the second quarter of 2017, it shipped 16 million units, marking a 9.3 percent year-on-year growth, according to information from International Data Corp.