Anta sees big potential in children's, winter sports products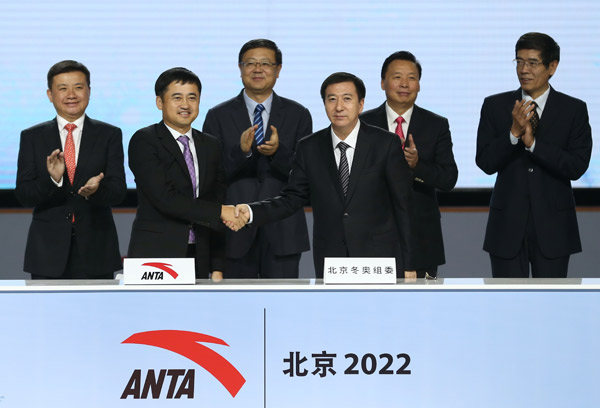 Anta Sports signs a deal on Thursday to becomes the official sports apparel sponsor for the 2022 Olympic and Paralympics Winter Games. [Photo by Wang Zhuangfei/China Daily]
Leading Chinese sportswear company Anta Sports Products Limited is expected to further expand its children's apparel and footwear brands, as well as prioritize its retail outlets at shopping centers and its online presence.
In an exclusive interview with China Daily, Ding Shizhong, chairman and CEO of Anta Sports, said the rapidly increasing demand for children's apparel and footwear, boosted by the relaxation of the second-child policy, had created numerous opportunities for Anta.
"We are planning to develop multiple brands for the children's category, including children's outdoor, running, skiing and basketball products. Anta Kids currently accounts for 15 percent of Anta brand's portfolio and it is expected to reach 20 percent in the near future," Ding said.
As of June 30, the total number of Anta stores-including Anta Kids standalone stores-in China stood at 9,041.
The number of Fila stores (including Fila Kids standalone stores) in markets including China and Singapore reached 869. The group's other brands including Descente are going to release children's brands.
The strategy of "complete coverage of all distribution channels" for Anta has been prioritized to focus on shopping centers and online stores, according to Ding.
Anta used to rely heavily on its brick-and-mortar stores on shopping streets, which accounted for 75 percent of its retail outlets.
But Ding said the company plans to increase the number of its outlets in malls and department stores from the the current 35 percent to 50 percent.
He was speaking prior to the announcement on Thursday that the company has become the official sports apparel sponsor for the 2022 Olympic and Paralympics Winter Games.
The company is the first Chinese sportswear brand to become the major sponsor of the Olympic Games. This is also the fourth consecutive times that Anta has become a partner with the China Olympic Committee.
As the world's third largest sportswear brand by market value, Anta will also facilitate the development of the winter sports industry in the country.
"We just started our winter footwear business and the market has huge potential," said Ding.
"The winter sportswear and sports equipments require advanced technology and will reflect the leading positions of Chinese sports brands in the world," he said.
As of the end of 2016, the group had more than 9,500 stores and extended its reach to cities nationwide, and it is now heading for 10,000 stores.
Anta group's interim results for the six months ending on June 30 saw its revenue increase 19.2 percent to $1.1 billion and profits up 28.5 percent to $217.4 million.