Rail drives growth of Chinese forestry products in Russia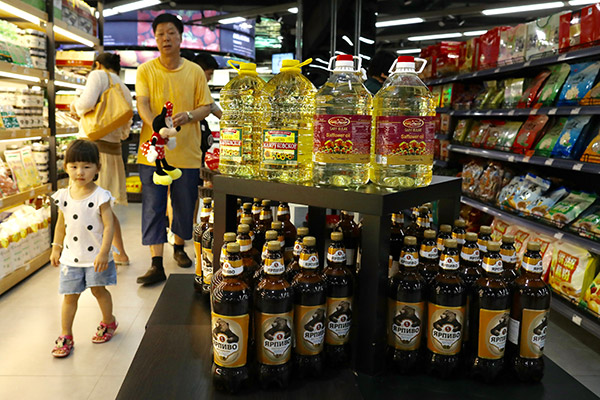 Russia-made cooking oil, which is transported by the China-Russian freight trains, is sold in a supermarket in Wuhan, capital of Central China's Hubei province. [Photo/China Daily by Zhu Xingxin]
A Chinese company has invested $960 million in setting up a zone in Russia to manufacture and trade in wood products.
The move will further boost bilateral trade and is another example of how the Belt and Road Initiative can bring businesses and countries together.
Located in Asino city, the China-Russia Tomsk State Wood Industry and Trade Cooperation Zone covers 24,000 square kilometers of forest reserves, according to the company.
"The zone's annual output is expected to reach 5 billion yuan ($759 million)," said Li Wending, deputy general manager of Hubei Fuhan Industrial (Group) Development Co Ltd, the zone's investor.
"The products are mainly sold to the Chinese mainland market and shipped on China-Europe freight trains," Li added. "Delivery time is within two weeks."
The service, officially known as the China Railway Express, refers to the transcontinental cargo trains connecting China, Central Asia and Europe, as well as other economies in the Belt and Road Initiative.
Already the zone has brought economic benefits to the local economy.
"For instance, we have hired over 2,600 local employees," Li said.
In April, the enterprise was listed as one of the 73 key projects between China and Russia. Bai Ming, deputy director of international market research department under the Ministry of Commerce, stressed that the Belt and Road Initiative had made great contributions to the development of both countries. "Although their destinations vary, almost each freight train passes through Russia," Bai said.
"This creates a unique advantage to further promote Sino-Russian economic and trade cooperation," Bai added.
In the first eight months of this year, trade between China and Russia amounted to 368.7 billion yuan, up 27.7 percent from last year, data from the General Administration of Customs showed.
Alexander Gabuyev, a senior fellow and the chair of Russia for the Asian-Pacific program at the Carnegie Moscow Center, pointed out that Sino-Russia trade was expected to reach $80 billion this year.
The prediction was based on the rising metal prices and closure of surplus production capacities, he told Xinhua News Agency.