Airline inks co-op deal with Ping An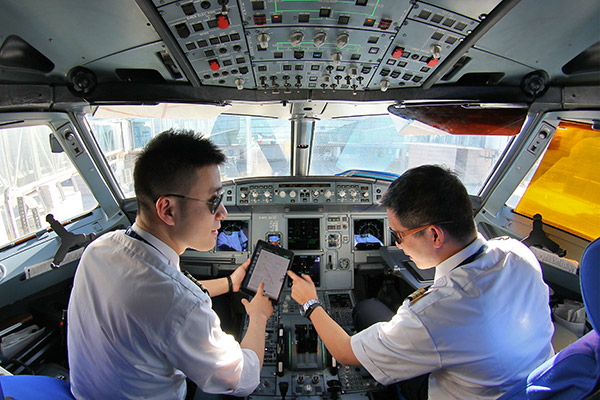 An aircraft commander of China Eastern Air Holding Co discusses the flight plan with his co-pilot in the plane. [Tang Ke/for China Daily]
China Eastern, insurance firm to work together in ownership reform, finance
China Eastern Air Holding Co and Ping An Insurance (Group) Co of China Ltd have signed a strategic cooperative agreement, under which the two sides will work together in fields including business trip and travel services, insurance, finance, property and mixed ownership reform, official sources said.
The cooperation between the world's seventh largest airline and 39th rated Fortune 500 company is aimed at quality sustainable development in the industrial chain, value chain and service chain with the support of each other's comprehensive strengths, according to the announcement filed to the State-owned Assets Supervision and Administration Commission dated on Monday.
The two parties will also explore opportunities in areas including customer resources, marketing, new technologies including a cloud eco-system, financial credit and payment, real estate, operation and customer service, according to the notice.
"The two parties will also actively promote cooperation among their affiliated companies," added the report.
Sheng Ruisheng, board secretary of Ping An, told China Daily that, "We are currently studying the possibilities of a mixed ownership reform", without specifying the development.
"The two parties come from aviation and insurance, which are two complete different industries, so their cooperation is targeting China's consumption upgrade, amid which they can benefit from the surging demand for traveling service and financial service," said Li Lei, an industrial analyst from Minzu Securities.
Being one of the nation's first batch of six State-owned corporations to launch a mixed ownership trial, China Eastern announced in June that it would step up efforts in diversifying holdings by selling a 55 percent stake in its freight arm Eastern Air Logistics Co to four investors as well as its employees.
According to the agreement China Eastern signed with its partners, Legend Holdings Corp, Global Logistic Properties Ltd, China Deppon Logistics Co Ltd and Chinese real estate developer Greenland Holdings Corp, will hold 25 percent, 10 percent, 5 percent and 5 percent, respectively, with another 10 percent to be held by Eastern Air Logistics' employees.
China Eastern's trial of mixed ownership reform can be actually traced back to 2015, when it inked an agreement with Delta Air Lines to sell a 3.55 percent stake with a value of $450 million. Later in 2016, China Eastern and online travel giant Ctrip.com International Ltd reached a deal to sell 3 billion yuan worth of its A shares to the latter. In late July, China Eastern and Delta Air Lines announced that they would each buy a 10 percent stake in Air France-KLM Group for around 375 million euros ($438.8 million).
"The aviation industry is not an isolated business, and we have seen in the past few years that China Eastern has signed a variety of partnership agreements with companies from a variety of industries and strengthened the company itself with the support of these partners," said Yu Nan, an industrial analyst from Haitong Securities Co.
Hu Yuanyuan in Beijing contributed to this story.