Siemens to merge rail operations with French rival Alstom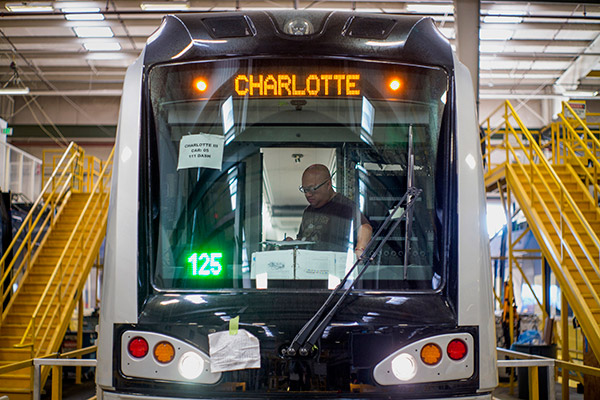 An employee works on a light rail train being assembled at the Siemens Industry Inc manufacturing facility in Sacramento, California, the United States. [Photo/Agencies]
MUNICH/PARIS-Siemens AG and Alstom SA have agreed to merge their rail businesses in a deal that brings together former archrivals from Germany and France to create a European transportation giant aimed at countering competition from outside.
Siemens will transfer its business making train and transit cars and signaling equipment to Alstom in exchange for a stake of just above 50 percent in the enlarged company, according to a statement.
The renamed Siemens Alstom, with sales of around 15.3 billion euros ($18 billion), will remain based in the Paris area. Alstom Chief Executive Officer Henri Poupart-Lafarge will keep his position and the chairman will be named by Siemens.
"We need to strengthen our ability to compete," Siemens CEO Joe Kaeser said in a video about the tie up, which the companies call a merger of equals. "A dominant player in Asia has changed global market dynamics."
The combination will give the German company control of an icon of French industry that developed the high-speed TGV trains that zip across the countryside at upwards of 300 kilometers per hour.
French President Emmanuel Macron's government backed the deal after receiving assurances on jobs, and it comes just days after German Chancellor Angela Merkel was reelected on a platform of closer European ties.
Capping years of speculation in the industry about the need for consolidation, the tie-up could mirror the emergence of European planemaker Airbus in the 1970s that went on to become the biggest competitor to Boeing Co.
Shareholders in Alstom will receive two special dividends, one of 4 euros a share and the other of up to 4 euros a share. One is to compensate them for giving up control of the company, and the other to be paid from the proceeds of Alstom's put options for joint ventures it has with General Electric Co.
The companies expect annual synergies of 470 million euros and Alstom will have to pay a 140 million-euro break up fee if it decides to cancel the transaction. They are aiming to close the deal by the end of 2018. The new entity will have an order backlog of 61.2 billion euros.
Alstom shares surged 8.5 percent to 36.50 euros at 9:05 am in Paris. The stock had surged 29 percent this year through Tuesday, giving the company a market value of 7.4 billion euros.
Siemens, which also makes products including power-generation and healthcare equipment, rose 1 percent to 117.70 euros. The shares had fallen 0.2 percent for a value of 99.1 billion euros.
The new company will remain listed on the Paris stock exchange, while Siemens's mobility solutions business will have headquarters in Berlin, and rolling stock in the Paris area.
Jochen Eickholt, head of Siemens Mobility, will assume an "important responsibility" in the merged company, the companies said.
Siemens Alstom, which will have about 62,000 employees, will become the second-largest maker of rail cars and locomotives after China's CRRC Corp. Years of bitter rivalry between the European companies created animosity in the past so a deal between them was unexpected until last week, when Bloomberg reported talks.
These came alongside the German company's negotiations to join forces with Canadian competitor Bombardier Inc through two joint ventures.
BLOOMBERG