Foreign retailers plan 'super-national treatment' for Chinese tourists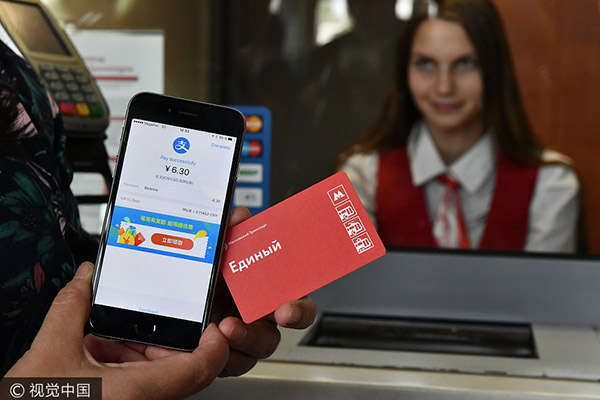 MCC railway tickets are booked via the AliPay payment system in Moscow,Sept 10, 2017. [Photo/VCG]
Overseas sellers plan to give "super-national treatment" to Chinese tourists to promote their spending during the upcoming China's National Day holiday.
According to China News Service, hundreds of thousands of overseas merchants plan to cooperate with Chinese mobile payment platform Alipay to give Chinese people good price that will be lower than the price provided to other countries' tourists, even including local people.
Most of the sellers will give 15 percent discount to Chinese tourists when they pay bills via Alipay, and the discounts from different brands can be used together, said the news agency citing overseas merchants at a tourism summit held in Beijing on Tuesday.
At present, 16 airports around the world offer Chinese customers the option of receiving tax refunds through Alipay, two of them in South Korean, and others in Europe.
"China's National Day holiday is not only a festival for Chinese people, but also for us," said Wu Qing, general manager of overseas marketing department in Thailand duty-free store King Power.
The King Power has prepared to welcome Chinese tourists, the general manager said, "We use Chinese people's well-known payment way to offer good price to them, as well as, provide them Chinese language service."
King Power has run retail business for 27 years, with half of its sale volume contributed by Chinese tourists. Wu Qing said "the National Day holiday is a peak period for Chinese people to travel outbound, which can bring us lots of businesses."
Justin Watson, general manager of Christchurch International Airport in New Zealand, said China is the second largest country for tourism to New Zealand as more than 400,000 Chinese tourists visited the country in 2016, and most of them were young people.
"In order to attract more young Chinese tourists, we have changed a lot of services including cooperation with Alipay that conveniently lets people search discounts in the airport, and pay bills via their smartphone. Other countries' tourists are surprised with China's advanced internet technologies," said Justin Watson.
In 2016, 122 million overseas trips were made by Chinese tourists, and China remained the top country of outbound travelers for fourth consecutive years. In the first half of this year, the figure was 62.03 million.