Innovating healthcare for tech edge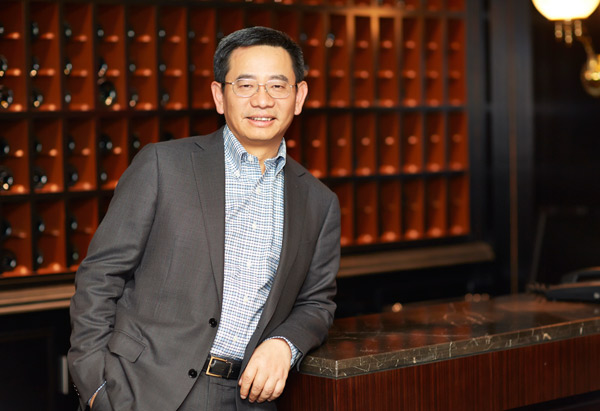 Liu Jie, vice-president of Carestream Health Inc. [Photo provided to China Daily]
Carestream Health's VP Liu Jie leads his team's efforts to help modernize China's medical services
Liu Jie, vice-president of the US-based Carestream Health Inc, a provider of medical imaging systems and information technology solutions, is passionate about digital technologies and experienced in adapting quickly to a fast-changing market environment.
"There are many areas in China that allow us to maintain robust growth. One distinctive trend is the shift in focus of the country's healthcare sector toward technical and service innovations," said Liu, who has been working in the medical equipment business for 23 years.
Eager to promote its healthcare industry, China will invest 400 billion yuan ($61 billion) by 2020 in a number of medical-related projects.
These include establishment of a digital information network for public health service, innovations in medical devices, development of traditional Chinese medicine or TCM, and training for general practitioners.
All that spells big opportunities for Carestream whose largest market is China. So, the company plans to focus on building the country's digitalization capability over the next three years.
Its strategy this year is to bring more technical resources and funds to China to enhance its research and development facilities, and provide comprehensive aftersales service and technical support.
As data is the most important factor in production in developed markets, Liu said Carestream will pay close attention to medical information and bring in internationally advanced research results.
It will also continue to develop localized solutions to meet the demand of patients as well as hospitals.
The government has been encouraging foreign businesses to invest in China's medical services industry, according to the Ministry of Human Resources and Social Security.
Spending in the consumer healthcare sector has surged in China since 2015. The market expects double-digit growth in the next decade, according to a July research report of China International Capital.
"Competition from the rapid development of homegrown brands, multinationals and those who have entered this field from other industries in recent years is normal. It's not a bad idea to goad the players to perform better, to generate new growth points," said Liu, who is also the president of Carestream's Greater China cluster.
Liu said the market and customers have the final say when it comes to assessing the quality of products and services. In particular, customers from the medical sector demand high-quality and efficient products, service continuity and collaboration.
The company has provided products and services including medical imaging, collaborative diagnosis, remote consultation and imaging cloud to more than 35,000 medical institutions throughout China over the past decade.
"Independent innovation is most important for us to stay competitive. Through research and innovation, we will develop products that suit diversified requirements," said Liu.
"By increasing inputs in IT applications and exploring the value of data, we will gain insights, thereby propelling the development of precision medicine and population health."
The company operates a global research and development center in Shanghai with more than 400 employees. It spends around 10 percent of its sales in research and development every year.
By strengthening inputs in the market, Carestream has set goals to serve the primary medicine and non-public markets with quality products, services and new channels, as well as stepping up cooperation with domestic companies and paving the way for implementing digital applications.
Liu, who joined the company in 2004, said medical services being provided in China's remote towns and villages, especially in the country's central and western regions, are comparatively less developed.
To improve the situation, the company has been working with the National Health and Family Planning Commission for five years now, offering training to doctors at the grass-roots level where healthcare consumers are poor.
The goal is to improve local medical and health conditions and lower costs for rural residents seeking a diagnosis.
The project covers 832 counties in 22 provinces and regions that are under the country's poverty alleviation program. The focus is on county-level administration of healthcare services and management of personnel and medical officials.
On June 23, the State Council issued a circular regarding application and development of big data in the health and medical sectors.
By 2020, a big data system should be created, highlighting a unified and interconnected public health information platform.
"The initiative won't just help improve related public health services, it will play a big role in economic and social development," said Jin Xiaotao, vice-minister of the National Health and Family Planning Commission.
Liu said, "We will serve our customers with latest medical experience for the era of big data, based on advanced international technology and local requirements.