Airbus opens new center in Tianjin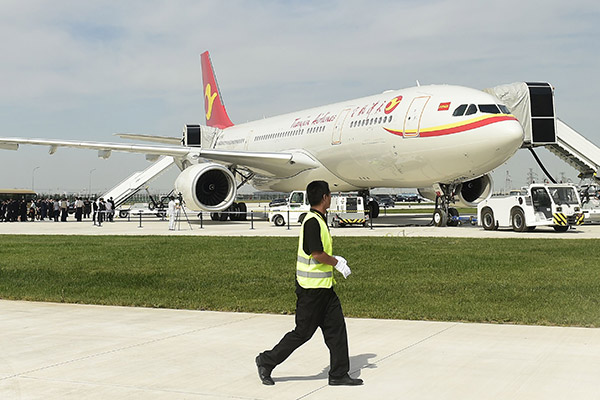 The first European and Chinese made wide-body A330 aircraft is delivered to Tianjin Airlines on Wednesday. [Jia Lei/for China Daily]
Aircraft manufacturer Airbus Group SE on Wednesday inaugurated its first overseas wide-body completion and delivery center in Tianjin, and delivered its first European and Chinese made wide-body A330 aircraft to Tianjin Airlines from the new plant.
This aircraft was completed by Chinese staff members earlier in Toulouse, France, with support from their European peers. Some 150 Chinese staff were trained by Airbus experts for six to nine months, and they will later work at the Tianjin center, which will not only deliver aircraft to China, but also to the whole Asian market.
The Tianjin center will cover various aircraft completion work, including cabin installation, aircraft painting and flight tests, as well as customer endorsement and aircraft delivery. It will employ more than 250 people in total and will be ready to deliver two aircraft per month by early 2019.
The Airbus (Tianjin) Final Assembly Co Ltd has 51 percent of its shares held by Airbus, and 49 percent by the Tianjin Free Trade Zone Investment Co Ltd and the Aviation Industry Corporation of China.
"The inauguration of our A330 completion and delivery center in Tianjin marks a new milestone for Airbus' international footprint and underlines the strong spirit of cooperation with our Chinese partners," said Fabrice Bregier, Airbus COO and president of Airbus Commercial Aircraft.
"Wide-body aircraft completed in China is an Airbus and an industry first. It demonstrates our mutual commitments to a strong and growing Chinese aviation sector."
By the end of August, there are 202 A330 aircraft in service on the Chinese mainland, taking 55 percent of the widebody market share.
Lin Zhijie, an aviation industry analyst and columnist at carnoc.com, a leading civil aviation website, said it was in 2007 that Airbus launched its final assembly line of A320s in Tianjin.
"Ten years ago, Airbus only took 34 percent of the market share in China of its total aircraft in services, now the share has increased to 47 percent, and the Tianjin plant has played an important role. Therefore, Airbus has been aiming to strengthen its cooperation with China," he said.
The cooperation between Airbus and China has helped the European giant to lift its market share in China to nearly 50 percent against its archrival Boeing Co. In early May, Boeing started the construction of its completion and delivery center of B737 MAX in Zhoushan, Zhejiang province.
The first A330 aircraft delivered from Tianjin is powered by Rolls-Royce Trent 700 engines. Currently, all A330s on order and yet to be delivered to Chinese customers will be powered by Trent 700 engines.