CASC to complete key reforms in '17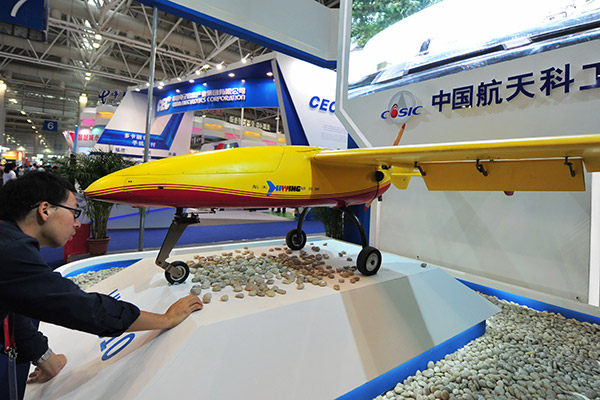 A visitor looks at a drone made by China Aerospace Science and Technology Corp at an industry expo held in Fuzhou, capital of Fujian province. [Photo/Xinhua]
China Aerospace Science and Technology Corp, the nation's defense industry conglomerate, has vowed to answer the government's call to complete key internal corporate reforms by the end of this year.
Wang Zhanyu, deputy director of the department of strategy management at CASC, said at a media briefing that in addition to responding to the State Council's timeline to complete its corporate reforms by 2017, it has vowed to accelerate the process of spinning off its social functions by 2018, which is an essential part of deepening the reform of SOEs.
It also plans to promote mixed ownership reform, through raising its asset securitization rate to over 45 percent by 2020.
The restructuring is included in the broader SOE reforms administered by the State-owned Assets Supervision and Administration Commission, the top SOE watchdog.
Specifically, the reform of CASC has been boosted by innovation-driven development, as can be seen from its achievements, such as BeiDou, China's leading satellite navigation system, manned space projects and the lunar exploration program.
Its Earth Observing System satellite program has increased the nation's self-sufficiency rate of high-resolution remote sensing data to over 70 percent, playing an essential role in information security.
According to Wang, CASC is constantly fine-tuning its management system and is making various innovations in this field.
In the past five years, the company has launched over 80 Long March rockets, with the launch frequency growing over 22 percent year-on-year. In 2016, the firm's launch frequency already shared the first place with the United States.
The company owes these achievements to its innovation breakthroughs. Its guidelines in response to the nation's "Made in China 2025" Initiative reduced its launch cycle and product cycle by 30 percent and 40 percent respectively, while raising its launch success rate to 95.6 percent, which is in line with the international standard. Moreover, the costs were lowered by around 20 percent.
Dong Yan, a researcher at the Institute of World Economics and Politics at the Chinese Academy of Social Sciences, said that the reforms led by the government, benefit SOEs such as CASC, as they adjust their structure and operation system and are better equipped to face international challenges.