Firms sign logistics partnership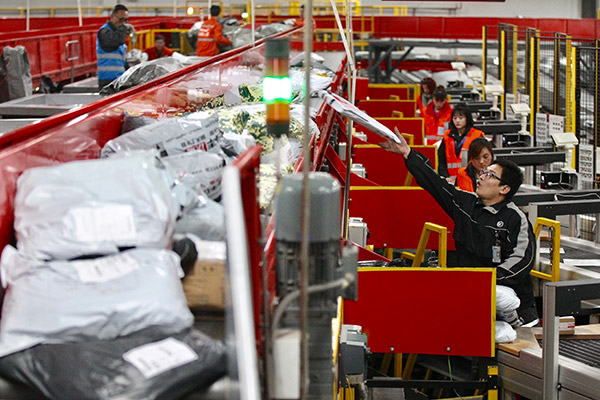 Workers of SF Express sort packages at an outlet of the company in Beijing. [Photo/China Daily by Zhu Xingxin]
China's logistic companies are teaming up to seize the self-service delivery locker market, which has become the focus of intensified competition in the sector.
Logistic giant SF Express on Thursday announced it has signed a strategic cooperation agreement with China International Marine Containers (Group) Co Ltd, the country's largest transportation equipment producer by revenue.
The two companies intend to seek further cooperation in transportation, express delivery, equipment, technology and funding, as well as the China-Europe Railway Express and other activities in the Belt and Road area.
The latest step is the acquisition of CIMC Electricity Commerce and Logistics Technology Co Ltd by Shenzhen-based Hive Box Technology, one of SF Express' investment in smart delivery locker business.
CIMC Electricity Commerce, a subsidiary of CIMC, was established in 2014 in Shenzhen and owns around 14,000 smart delivery locker cabinets, while Hive Box has more than 60,000 such cabinets.
These lockers are usually situated in residential communities, office buildings, college campuses and other public zones. If users are not available to pick up their express items, couriers can leave the packages in these lockers. Users will receive a password on their mobile phones to open their lockers.
After the acquisition, Hive Box's aim is to reach 90,000 locker units by the end of this year, dealing with five million parcels per day and covering 70 percent of the market in Beijing, Shanghai, Guangzhou and Shenzhen.
Zhao Xiaomin, a Shanghai-based logistics industry consultant, believes Hive Box will become the leading company in the smart locker industry and the total quantity provided by the whole industry is around 170,000 units.
In recent years, smart delivery lockers have boomed due to the development of e-commerce in China.
Sposter and State-owned China Post, another two major players in the industry, merged their locker operations in July and together own about 77,000 smart locker cabinets, according to China's news portal sina.com.
Recently, China's leading home appliance manufacturer Haier and e-commerce platform JD.com, also joined the smart locker market.