Zhongwang acquires German Alunna firm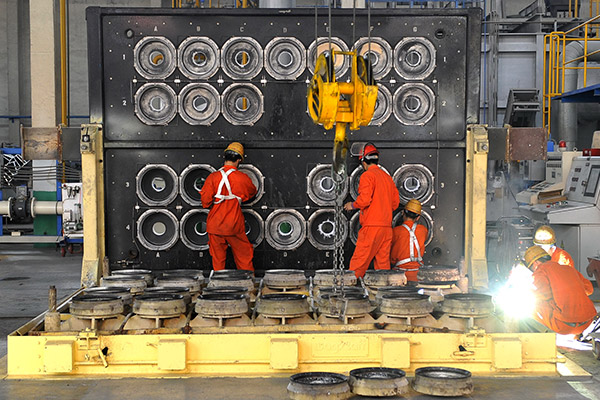 Workers process aluminum materials in a Zhongwang workshop in Liaoning province. [Photo/Xinhua]
Hong Kong-listed China Zhongwang Holding announced the acquisition of Germany's Aluminiumwerk Unna AG (Alunna) on Wednesday, as its latest effort to grab a share of the global market.
Alunna, a well-established aluminium extrusion maker based in Unna, Germany, provides high-end extrusion products, mainly seamless tubes, to such world-leading manufacturers as Airbus, Boeing, Bombardier, Mercedes-Benz and BMW.
The deal, via a solely-owned subsidiary, is the company's first overseas purchase and allows it to own a 99.72 percent stake of Alunna. The deal's value has yet to be disclosed.
Lu Changqing, president of Zhongwang, said the acquisition marks a milestone in international expansion and a major step in complementing the company's business.
"The transaction would also substantially enhance China Zhongwang's production capability in seamless extruded aluminium tubes in further optimising our product mix. We look forward to supporting Alunna in accelerating its expansion in the long run with extended resources and financial flexibility," Lu said.
In recent years, Liaoning-based Zhongwang has been increasing its presence in foreign markets, especially Europe, and has set up sales offices in Germany to support overseas sales business.
Qin Gaowu, China's top metal materials expert and dean of the materials science and engineering school of Dongbei University, said the acquisition would improve Zhongwang's aviation aluminum products and "is of great significance in promoting the nation's aviation industry".
Thomas Wiese, CEO of Alunna, said: "We are especially pleased about this acquisition by China Zhongwang, a reliable strategic shareholder."
Zhongwang's net profit dropped 8 percent year-on-year to 1.26 billion yuan ($200 million) in the first half, and its revenue fell 4.6 percent, according to a report filed with the Hong Kong Stock Exchange.