Mobike jostles for a share of the market in the UK capital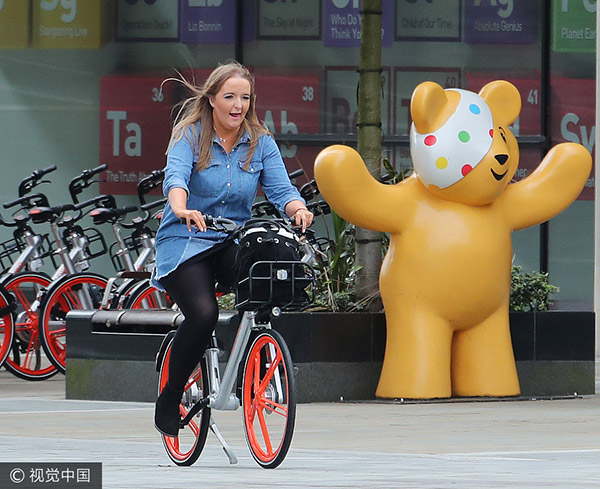 A woman rides Mobike's shared bike in Manchester, UK, July 7, 2017. [Photo/VCG]
Mobike has become the latest company to release its dockless bikes on the streets of London.
The Beijing-based bike-hiring company rolled out the first of 750 bikes in the West London borough of Ealing on Tuesday, joining four other new arrivals taking on existing schemes.
The company's silver and orange bikes can be picked up and parked without the use of a dock. Riders unlock a bike by scanning a QR code with the Mobike app, which is available on Android and from the Apple Store.
New users pay a promotional deposit of 29 pounds ($38.50), and rides cost 50 pence for 30 minutes.
The launch saw Mobike competing against rival Chinese company Ofo in a British city for the first time.
Ofo introduced 200 of its yellow bicycles in Hackney, East London, last week after launching its United Kingdom operation in Cambridge earlier this year. Mobike has had a presence in Manchester since June.
The two companies are key players in China's famed "bike wars", with dozens of bike-sharing rivals competing for market share in hundreds of cities across the nation.
Firms from other countries have also entered the London market.
Singapore-based oBike rolled out hundreds of cycles in Wandsworth, London, while Irish firm Urbo will put 250 bikes in the capital's Waltham Forest.
Companies have targeted London boroughs that are not well-served by the Santander Cycle docked bike scheme.
"Ealing had wanted the Santander Cycles for quite some time, but it's quite far out (from central London) and they are expensive to put in place," said Steve Pyer, UK general manager for Mobike. "We just had to make sure that all the approvals with the council were in place, and that we had set up the preferred locations for the bikes."
Julian Bell, leader of Ealing Council, said he sought assurances the bikes would not clutter public areas, a problem that currently plague many Chinese cities.
"I was very enthusiastic about the concept," said Bell."I felt it had more flexibility than a docking cycle hire scheme. Equally, I was concerned about all those pictures you see on social media of mountains of discarded bikes, so parking was the key issue."
Mobike has GPS trackers on all of its cycles and hopes "geo-fencing" will encourage users to deliver bikes back to high-use areas.
Users who fail to park bikes in designated parking spaces highlighted on the Mobike app will incur penalties and future rides may be more expensive.
Pyer said that location data will also be shared with the council to aid decisions on new infrastructure.