State Grid vows to wrap up reforms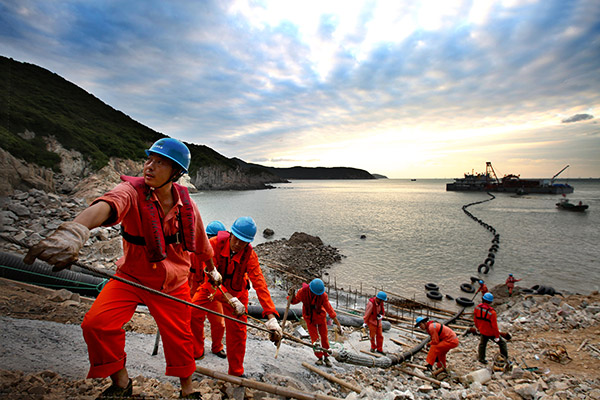 Workers from State Grid Corp of China lay an underwater cable in Zhoushan, Zhejiang province. [Yao Feng/for China Daily]
State Grid Corp of China, the nation's electric power giant, has pledged to complete key internal corporate reforms by November, as part of its efforts to make the utility company more streamlined, efficient and market-focused.
Company spokeswoman Wang Yanfang told a news conference on Monday that State Grid is confident that it will improve its corporate governance structure and streamline its management hierarchy, in order to deepen internal restructuring, and help create effective corporate governance and an efficient management structure.
The reforms would be completed on schedule, while the new structure would help clear institutional barriers and enhance the company's operational efficiency, she said.
The reform is part of the wider SOE reforms administered by the State-owned Assets Supervision and Administration Commission, the country's top regulator of SOEs.
The State Council, China's cabinet, issued an action plan this year ordering the country's major SOEs supervised by the central government, excluding financial and cultural enterprises, to complete corporate reforms by the end of 2017. These will help separate the government from business operations by restructuring SOEs into limited liability companies or corporations.
State Grid has also conducted project investment budget management system reform in recent years, which has saved 40 billion yuan ($5.97 billion) annually.
The debt ratio of 55.9 percent also makes the company one of the best among the Fortune Global 500 companies, it said.
Analysts said State Grid's moves would see an improved market focus and a more flexible company, making it more vigorous and competitive in the global marketplace.
Li Jin, chief researcher at the China Enterprise Research Institute, said that the reforms would help the corporation become more market-focused and flexible.
State Grid said it would also continue to expand public fast-charging networks for electric vehicles as part of its structural reform, while vowing to build the largest quick charging network for electric cars in the world, spanning 16,000 kilometers of expressways in 121 cities of 16 provinces.
As many as 167,000 charging posts will be built, accounting for 80 percent of the total public charging posts in the country and offering charging services to 1 million electric cars.
The fast-charging networks will offer services such as charging, resource monitoring and information sharing, said Wang.
The charging standard system for electric cars established by the company is one of the major standards in the world, along with three other standards developed by companies in the United States, Germany and Japan, she said.
The National Energy Administration said earlier that in order to enable users to power up within a close radius of their location, the country plans to build 800,000 charging points this year, including 100,000 public ones, for electric vehicles to meet increasing demand.
A total of 100,000 public charging points were installed nationally last year, a tenfold increase over 2015, bringing the total number of public charging points in China to 150,000, it said.
Asian utilities and infrastructure analyst Joseph Jacobelli from Bloomberg Intelligence said China is motivated to boost the popularization of electric vehicles in major cities, considering the country's air pollution.