SOE reform on the horizon after trading halt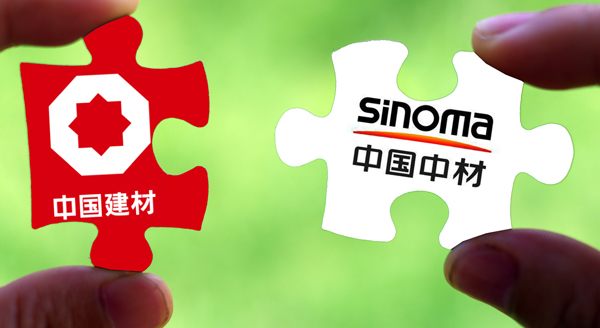 Two State-owned building materials firms-China National Building Materials Group Corporation and China National Materials Group Corporation Ltd-started merger preparations in the latest move of SOE consolidation and shedding of cement industry overcapacity. [Photo/VCG]
Nine listed subsidiaries of China's two building materials giants suspended trading on Thursday, evoking speculations that further substantial actions may be taken in the State-owned enterprise merger announced last year.
Both China National Building Materials Group Corporation (CNBM) and China National Materials Group Corporation Ltd (SINOMA) are central government-administered enterprises. The two companies have acquitted themselves well in different sectors — CNBM is well known as a producer of cement, glass, lightweight building materials and glass fiber, while SINOMA possesses core technologies and complete innovation systems for non-metals.
In fact, restructuring of SINOMA into CNBM dated back to Aug 26, 2016. According to financial media outlet Caixin, CNBM's Board Chairman Song Zhiping said in February that integration and adjustment of the corporate structure and secondary platforms has been completed, and CNBM is going to further integrate the business of 15 listed subsidiaries of the two enterprises.
The consolidation makes CNBM the largest comprehensive group in the building materials industry, with total assets of 550 billion yuan ($85.3 billion). CNBM also leads the world in production capacity of glass fiber and gypsum board.
China pledged to deepen SOE reform in this year's annual government work report as a method to improve efficiency. Apart from measures like cutting capacity, managing "zombie companies," excising layers of hierarchy and calling for innovation among firms, China also introduced a mixed-ownership system.
One recent example of this reform comes from China United Network Communications Group Co Ltd, the country's second-largest mobile carrier by subscribers. The firm carried out the mixed-ownership reform scheme in August and received capital from private investors — among them domestic tech titans Tencent Holdings Ltd, Alibaba Group Holding Ltd, Baidu Inc, JD.com Inc and Suning Commerce Group Co Ltd — by selling a 35.2 percent stake.
At the end of the same month, China's major power generator China Guodian Corporation and largest coal miner Shenhua Group merged their coal power assets, creating an energy behemoth with combined assets in the range of 1.73 trillion yuan to more than 1.8 trillion yuan
These reforms follow a clear trend. Since 2003, the total number of central SOEs has sharply fallen from 196 to 98.