TCL will target global markets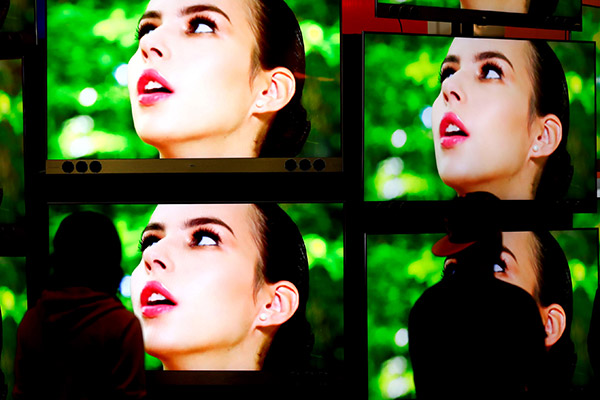 TV screens produced by Chinese company TCL at the IFA Electronics Show in Berlin, Germany earlier this month. [Photo/Agencies]
Guangdong manufacturer among the top consumer electronics producers
Chinese consumer electronics company TCL Corp will step up efforts to expand its presence in overseas markets, especially in Europe, Russia, the Middle East and Africa. Nearly 50 percent of its revenue comes from outside China, said Li Dongsheng, chairman and chief executive officer of TCL.
TCL will continue to increase investment in semiconductor display technology and artificial intelligence, with an aim to reach the leading level in the world, as well as enhance intelligent manufacturing capacity in response to the Made in China 2025 strategy, according to Li.
"We have speeded up the expansion of overseas operations with the help of the Belt and Road Initiative, and will pay attention to enhancing the quality of international operation and management in the future," Li said.
Industry statistics showed TCL shipped 20 million LCD TV sets around the world last year, half of them smart TVs. That makes it the world's third-largest liquid crystal display TV maker.
In the first quarter of 2017, TCL also ranked in the top three for global TV shipments, with a market share of 7.3 percent, according to market research company IHS Technology.
Li pointed out its TV sales in the United States increased 216 percent in the first half, becoming the third-largest player in the US market.
Moreover, the European sector is a key market and part of TCL's globalization strategy. And the electronics giant will continue to strengthen marketing and brand building in Europe.
"Our TV sales in Europe have improved this year, while smartphones saw a drop in sales … We hope to increase our brand awareness and expand marketing channels by virtue of IFA Electronics Show 2017, one of the world's biggest trade shows for consumer electronics held in Berlin from Sept 1 to 6," Li said.
The company has unveiled its smart TVs at IFA 2017. The 85-inch flagship XESS Private Theater X6, P6 ultra-slim TV and C5 TV from Cityline series brought consumers AI and new content solutions.
"I am confident that not only our sales in Europe will rise, but also our profitability will grow in the next one or two years," Li said.
Founded in 1981 in Huizhou, Guangdong province, TCL has become one of the largest consumer electronics manufacturers, producing mobile phones, televisions and home appliances, among other consumer goods.
The electronics giant's business in Latin America has also witnessed a steady growth in recent years. Last year, it established a joint venture with local partners in Brazil, and will soon announce its second joint venture in Argentina to expand its presence in that country's electronics market.
"By virtue of the Belt and Road Initiative, TCL has accelerated its globalization in European countries through establishing factories and cooperating with local partners to gain more market share in Europe," said Liang Zhenpeng, a consumer electronics analyst.