TME hopes its new service is a top 10 hit with internet users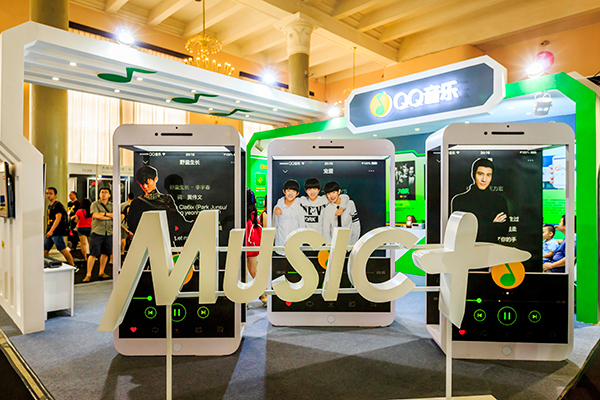 The Tencent Music Entertainment Group's booth at the 2016 Music & Life Show at the Beijing Exhibition Centre. [Photo provided to China Daily]
Tencent Music Entertainment Group has launched a service to turn online music fans who listen for free into paying customers.
In a move to ramp up China's 11 billion yuan ($1.65 billion) music streaming industry, the subsidiary of e-commerce juggernaut Tencent Holdings Ltd has rolled out a new service to increase revenue growth.
Part of TME's aim is to protect the intellectual property rights of artists as well as offering customers valued-added content. This includes original articles by musicians, composers and singers, and designated songs, which can be downloaded.
Monthly subscription plans vary from 8 yuan to 18 yuan depending on the artists and audio streams. Artificial intelligence, or AI, technology, is used to recommend songs, depending on the person's gender, age, location and music preferences.
"Through the 'Tencent Musicians Plan', we aim to protect the intellectual property rights of musicians and use big data to promote and distribute their work," said Dennis Hau, vice-president of TME.
Tencent certainly has the numbers to make this work with nearly one billion customers on websites for gaming, entertainment and social media, as well as on internet payment platforms.
The plan was also wheeled out just months after TME sealed an exclusive licensing deal with Universal Music Group. Under the agreement, it will become the main distributor for Universal's music and artists in China, although Hau declined to supply hard financial figures.
Last year, parent company Tencent, which is best known for its messaging app WeChat, reported total revenue of 151.9 billion yuan, a jump of 48 percent compared to 2015.
Still, there are challenges ahead. To make TME work, artists and composers need to be adequately rewarded in what music industry insiders call the "value gap".
"For investment in artists to be maintained and for the market to continue to develop, more must be done to safeguard the value of the music and reward creativity," said Frances Moore, the chief executive officer of the International Federation of the Phonographic Industry, which represents the interests of the recording sector worldwide.
TME is addressing this issue. It operates on three online streaming sites, QQ Music, KuGou and Kuwo, and has more than 100 million daily active users.
Remarkably, that accounts for 60 percent of China's online music market, iiMedia, an internet research firm based in Hong Kong, reported.
"We are testing a music-themed blogging service to enhance and encourage the adoption of paying for (music content)," said Hau at TME.
"Music sites act as an emotional bridge which attract like-minded people," he added.
The service, known as "Music Account", will be embedded into the QQ Music app, and will act as a portal publishing articles inside WeChat for marketing purposes. Seasoned artists, as well as industry insiders, will be able to write pieces promoting paid-for musical content, which can be downloaded on TME.
"Content is an effective means to enhance customer loyalty in a highly competitive environment," said Neil Wang, president of consultancy Frost and Sullivan Greater China.
"Music Account brings a new traffic growth platform by connecting with Moments, QQ and other social media sites to market music content," he added.
Data released by TMC showed that 50 percent of users downloaded songs promoted on "Music Account", which was "10 times higher" than when they were not recommended.
"We are confident that more people will accept the idea of paying for premium content once they are used to the customized services," Hau said.
"The purchase of songs derives more from loyalty than utility. People are the ultimate reason the music industry exists."