Disney to branch out into lower-tier cities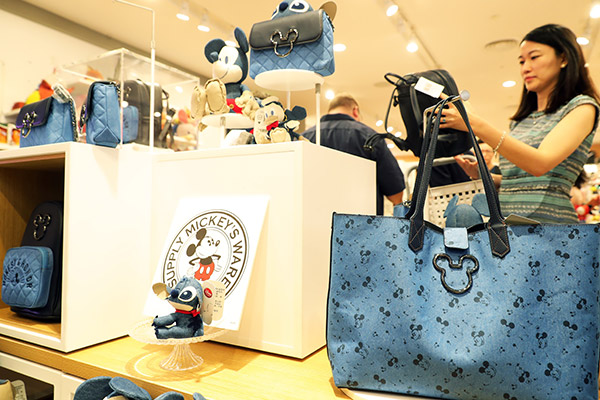 Visitors examine products at a Disney shop in Shanghai, which opened last week. [Photo/China News Service by Tang Yanjun]
Walt Disney Co, the world's largest entertainment company by revenue, is expected to get closer to Chinese consumers in lower-tier cities by setting up regional presences and enhancing digital cooperation.
Luke Kang, executive vice-president and managing director of the Walt Disney Co in China, said in an exclusive interview with China Daily that the company is seeking growth in third and fourth-tier cities, as it already has a strong presence in first and second-tier cities.
The company has implemented regionalization strategy to set up offices in four cities in Shanghai, Beijing, Shenzhen and Chengdu, with each team empowered to help distribute and market contend and products to consumers in every corner of the country.
"The way we are doing business and we are structured has not been changed for the last 10 years," said Kang. "We want to reach and hire people in those cities who know the regions very well and bring different perspectives to us. I don't believe China can be managed as a single market anymore."
For example, the company's research shows that moviegoers' tastes vary from region to region. People in some regions like action movies more, while other regions' moviegoers prefer romance or animated films, he said.
The move will also expand the company's relationship with its business partners, including licensees and digital platforms. Kang added that, by operating on a regional basis in China, it can ensure it is sensitive to the needs and trends of each different regions.
"Ultimately we are a storytelling company. Whether it is the theme parks, consumer products, stores, it is about building an emotional connection and strengthening that connection," he said.
Last year Disney's movies-with brands including Pixar, Marvel and Star Wars-reached a record box office of more than 6 billion yuan ($895 million) in China. It is also the largest licensing company in the country, taking up more than half of the licensed market.
The Shanghai Disney Resort opened last year and has now expanded into its second phase of construction. Disney has been early in supporting cooperation with mobile digital platforms in China.
On the next move for Disney in China, Kang said: "We are building our brand and franchise to last a lifetime. It is not just a consumer brand, it is an emotional brand. People identify with certain moments of their lives where our stories touched them or our products gave them joy."
Company eyes big market prospects
Minnie Mouse imprinted on the Chinese traditional Qipao silk dress, Qing Dynasty style Chinese wooden furniture with elements from the Star Wars franchise, and mooncakes packaged with images of Disney's iconic characters were some of the exhibits on display at the annual franchise convention held by The Walt Disney Co in Shanghai on Tuesday.
The Burbank-based entertainment company has taken up more than 55 percent of the franchised market in China, making it the largest franchiser in the country.
"We have the largest licensing business in China," said Luke Kang, executive vice-president and managing director of the Walt Disney Company in China. "Almost everybody in China has interacted with Disney in one form or another."
More than 4,000 licensees and business partners have shown up.
The number was 2,500 last year. The company's franchise business has been booming, boosted by the growth of the middle class.
Last year Disney sold 15 million T-shirts, 6.5 million Tsum Tsums (mini-sized stuffed toys) and has been estimated to have provided school supplies for about 50 million Chinese students in the back-to-school season just recently.
For the upcoming Mid-Autumn Festival, the company hopes to sell 5 million mooncakes with Disney elements, according to Kermid Rahman, general manager of Disney Consumer Product and Interactive China.
Rahman said the demographics for its consumer products have been changing, from 60 percent of their licensed products going to children and families and 40 percent for young adults, to 55 percent to children and families and 45 percent for young adults.