Supermarket's young at heart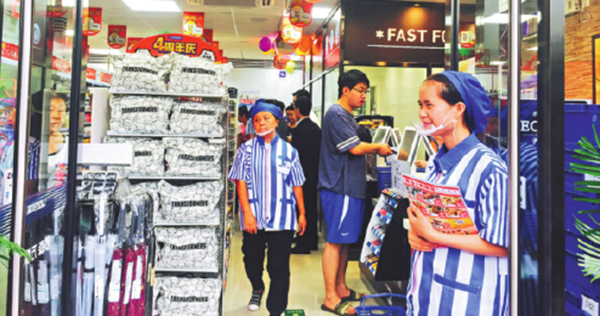 A sales clerk welcomes visitors at the entrance of the newly-opened convenience store under the franchised agreement between Chaoshifa and Lawson in Beijing. [Photo provided to China Daily]
Chaoshifa and Lawson link up to launch 24-hour convenience stores aimed at Millennials
Retail veteran Chaoshifa Market has been given a new lease of life.
The Beijing-based supermarket chain caters for middle-aged and senior citizen customers, and has been operating in local communities since 1997.
But this month the group opened three, small outlets in Beijing with the Japanese convenience store franchise, Lawson China Holdings Inc, in a bid to attract Millennial shoppers and white collar workers.
"Young consumers have grown into the habit of shopping at convenience stores, pushing the fast development of such formats," said Li Yanchuan, chairman of Chaoshifa.
With 7,000 employees and more than 100 supermarkets, the group is ranked in China's top 500 chain-store enterprises and has a wealth of retail experience.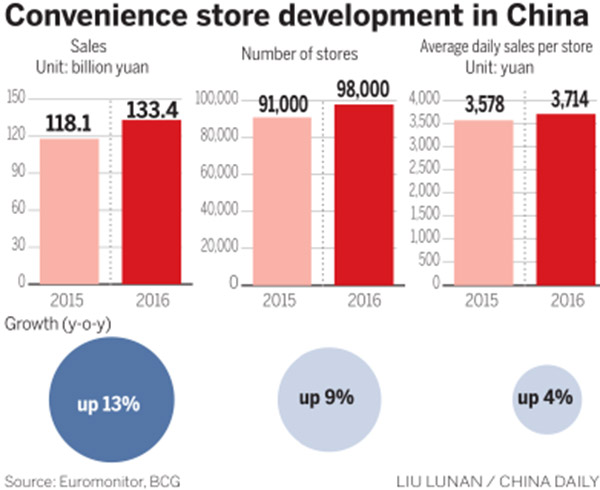 Last month, Chaoshifa and Lawson signed a cooperation agreement, with the Beijing group supplying the outlets and the Japanese company operating them.
The plan is to have 10 24-hour convenience stores in place by the end of 2017. After that, they aim to open another 10 outlets each year. Fast food such as sushi, sandwiches, salads and coffee will be on sale along with 2,000 products.
"The convenience store sector in Beijing still has great potential and is far from reaching saturation point compared to Shanghai," Li said.
Indeed, the decision by Chaoshifa to enter this part of the retail business shows the popularity of small, 24-hour shops in major Chinese cities.
Last year, the sector increased by 13 percent to 130 billion yuan ($19.5 billion) compared with the same period in 2015, a report by the China Chain Store & Franchise Association highlighted.
Revenue also jumped and store numbers expanded.
"First- and second-tier cities are the driving force behind the expansion of the smaller retail format and the sector has a great potential to develop," the 2017 China Convenience Store report stated.
At the last count, there were more than 260 convenience brands in the country. Last year, the overall numbers climbed 9 percent to 98,000 outlets year-on-year.
On average, daily revenue increased by 4 percent to 3,714 yuan per store during the same period, largely due to rising costs.
Store rents have gone up by 7 percent on average while staff wages have grown 6.5 percent, the report showed.
Water and electricity costs edged 0.7 percent higher, forcing retailers to improve management efficiency.
Only 10 percent of the food products stocked by half of the convenience store operators surveyed was fresh, the report showed. In Japan, the proportion was between 30 and 40 percent.
"About 85 percent of the convenience stores have merchandise with their own brands, but the average ratio between self-owned products and other brands is only 8 percent," the report stated.
Other key factors from the survey showed that nearly 30 percent of the retailers polled have yet to develop a franchise model. But up to 45 percent have adopted online shopping, which accounted for 10 percent of their revenue.
Still, convenience stores face a myriad of challenges.
"They need to lift up their revenue by expanding their services, such as copy printing or ticket bookings as rents and labors costs eat into their profits," Jason Yu, general manager of Kantar Worldpanel China.
"High gross profit products, such as fresh food, will not be enough to improve the efficiency of convenience stores."