Aircraft handed over to customers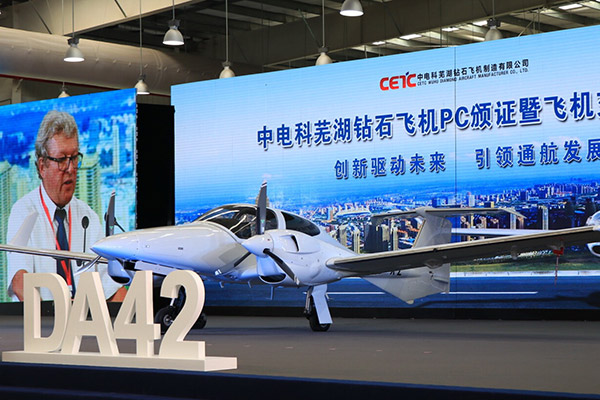 A Diamond DA42 series aircraft, which was jointly produced by Chinese and Austrian companies. [Photo by Zhu Lixin / China Daily]
Three airplanes jointly produced by Chinese and Austrian companies were handed over to the customers after receiving their Chinese production certificates on Monday morning in Wuhu, Anhui province.
The airplanes, from the Diamond DA42 series, were manufactured by China Electronic Technology (Group) Co's Wuhu-based plant with technology from the Austrian firm Diamond Aircraft Industries Inc.
The airplanes, the first three among more than 30 ordered, went to a pilot school and a private aviation company, according to Ping Lihao, president of CETC Wuhu Diamond Aircraft Manufacture Co Ltd.
He said receiving the production certificate is a must before the products could be sold.
"The DA42 series, with twin engines and four seats, have been popular in Chinese pilot schools and on the inter-national market for private airplanes", said Ping.
"It is the first type of aircraft to have both an overseas type certificate and a Chinese production certificate", said Ping.
Jointly invested in by CETC and the Wuhu municipal government, the plant will also be allowed to produce the Diamond's DA20 series soon, according to Ping.
"It is the only one in China able to produce the aircraft from making the carbon-fiber materials to assemble every part", said Zeng Rui, general manager of the Wuhu plant's research and development center.
Hong Yuning, deputy general manager of Wuhu Diamond, said 97 percent of the aircraft's body is made of carbon-fiber material, which makes the plane more reliable and economic.
"In the near future, all of Diamond's DA42 and DA20 aircraft will be made by our company", said Hong.
"Currently, 12 of China's 20 civil aviation pilot schools are using Diamond DA42 aircraft as their training aircraft, and in the future, 90 percent of the schools will be doing so", said Hong.
"As the Chinese aviation authorities are loosening their grip on low-altitude airspace, market demand for private airplanes in China will also rise, and we should be prepared for that", said Hong.
Hong said he was told by the country's civil aviation authorities that each county in China should have at least one airport for general aviation, "which will promote the industry significantly".
Zeng said the development of aircraft with CETC's own brand and engines is also going ahead smoothly.
"They will be launched in about two to three years", said Zeng.