Sportswear firm gets off to a running start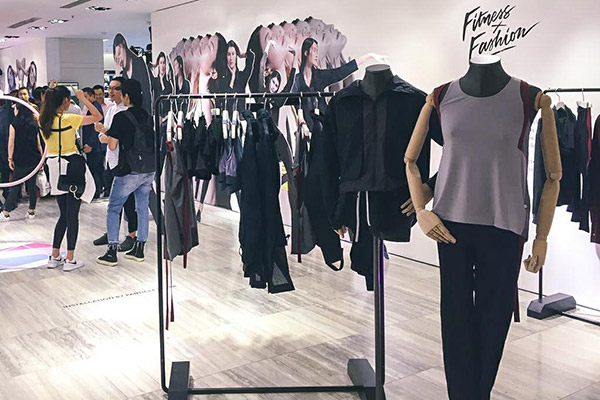 Particle Fever's collection has been a market success. [Photo provided to China Daily]
Particle Fever is a sports brand with a name straight out of the realm of physics.
A gritty docudrama about the search for the Higgs boson elementary particle was released in 2014 entitled, Particle Fever, just before three young partners founded their clothing label.
"As an independent sports brand, we will discover more areas of the unknown just like the physicists in the documentary," said Ren Jiujin, who set up the company with two other sports fans.
Since its launch, Particle Fever has been a grandstand success and has even impressed Lane Crawford, the luxury store chain, which specializes in glitzy labels in Hong Kong and other major Chinese cities.
The brand's experimental spirit and design have also impressed discerning shoppers.
"We have stood out because our style is unique," said Ren, co-founder of Particle Fever.
"The buyers at Lane Crawford have seen almost everything. We have won their hearts with the pioneering features in our design," she added.
Particle Fever rolled out its first series of sportswear online in November 2015. The collection was a success and six months later, they were part of the Lane Crawford family.
Swanky shoppers in Shanghai, Beijing, Chengdu and Hong Kong were all able to buy the group's apparel at the ritzy department store.
Naturally, the company's clothes sit comfortably next to premium blue-chip lines such as Nike Lab.
In less than a year, store sales volume has grown by tenfold with the rest of the 90 percent coming from online transactions. The amount of each order is as much as 1,300 yuan ($195), according to the company, which has yet to release detailed financial figures.
But then, Particle Fever has tapped into a lucrative part of the apparel sector.
Global research firm Euromonitor International reported earlier this year that the market value of Chinese sportswear amounted to 25.3 billion yuan in 2015 and is now expected to reach 43.1 billion yuan by 2020.
Since a growing number of consumers are working out to keep fit, demand for sports clothing and shoes has been on the rise.
"This is part of a new phase of upgraded consumption, which means that brands that lack unique style or design will be knocked out," said analysts at Euromonitor.
Even though the sportswear sector is tough to crack, Particle Fever has started with a bang as loud as a starter's pistol.
The company has already completed a series of A-shares financing worth more than 10 million yuan in August 2016.
It attracted Share Capital, which is based in Shenzhen, Frees Fund in Beijing, and Shanghai-based Proxima Ventures and Wang Gang, the angel investor behind ride-hailing giant Didi Chuxing.
Customers include young professionals from the worlds of advertising, investment, finance and the internet.
"Yet anyone who is young from the inside will find our products appealing," Co-Founder Ren said. "The younger generation is very smart.
"They hardly pursue anything blindly," she added. "They start to have a sense of independence at an earlier age and can tell exactly what they like."
For Ren, the brand's design is important and part of the company's "think big" mantra.
"China is now one of the most important economies in the world," she said. "We should have the confidence to understand that we no longer need traditional Chinese features to define our design.
"We want to be considered globally," Ren added.