Chinalco's H1 shines bright on sales surge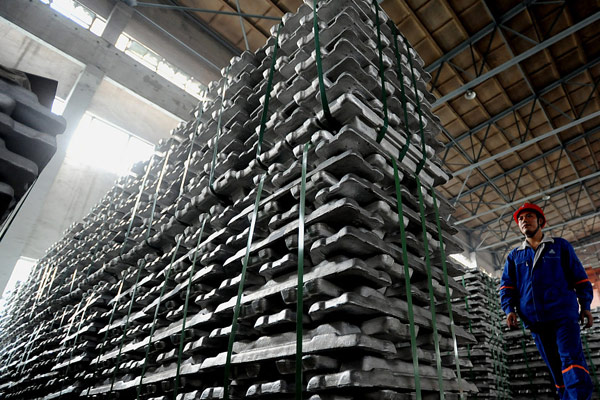 A worker walks past aluminum ingots at a factory of Chinalco in Baise in the Guangxi Zhuang autonomous region. [Photo by Luo Zhiken/For China Daily]
Aluminum Corp of China, the country's largest nonferrous metals company, announced its best half-year performance in nine years, riding a surge in commodity prices.
Also known as Chinalco, the company said in its interim report for 2017, which was released late on Thursday, that first-half revenue reached 91.31 billion yuan ($13.68 billion), up 83 percent year-on-year, which yielded a profit of 751 million yuan, up 1,006 percent year-on-year.
A surge in sales volume as well as prices, particularly of its main products, boosted the first-half revenue and profit, Chinalco said.
Aluminum prices have been on a rebound since last year, and continued to be strong in the first half of this year.
For instance, the average aluminum price on the Shanghai Futures Exchange was 13,875 yuan per metric ton in the first half, up almost 21 percent year-on-year.
The average price of intermediate material alumina, the oxide of aluminum, reached 2,682 yuan per ton, up 45 percent year-on-year.
"Since April last year, the aluminum sector has been making profits," said Li Lin, an analyst at Sublime China Information Group in Zibo, Shandong province, adding that the average profit reached last year's highest level of 2,000 yuan per ton in October.
Supply-side reforms have helped strengthen the industry further this year.
In April, regulators such as the National Development and Reform Commission, the country's top economic planner, announced that illegal projects, which increased overall industry capacity since May 2013, would be asked to close down.
Within six months, the electrolytic aluminum sector saw such projects eliminated, which kicked off the capacity cutbacks.
Shandong, the largest aluminum producing province in China, said on July 24 it would close projects that used to produce 3.21 million tons of the metal, following similar measures by several other provinces.
"The market's expectation of overcapacity reduction helped keep the metal prices high in the first half," said Xu Ruoxu, an analyst with Shenwan Hongyuan Securities, adding that the listed company's shares have been on an upswing since June this year. Chinalco shares surged 57 percent from 4.28 yuan on June 1 to 6.76 yuan on Friday.
In 2014, Chinalco reported a deficit of 16.2 billion yuan, losing the most among the listed companies in A-share market.
However, in 2015, the company began to make profits. It made 206 million yuan in 2015. In the fourth quarter of last year alone, Chinalco realized an operating profit for the first time in five years.
The latest interim report confirms that Chinalco has made a profit in three consecutive quarters.