CSIC swaps debt for equity in two of its subsidiaries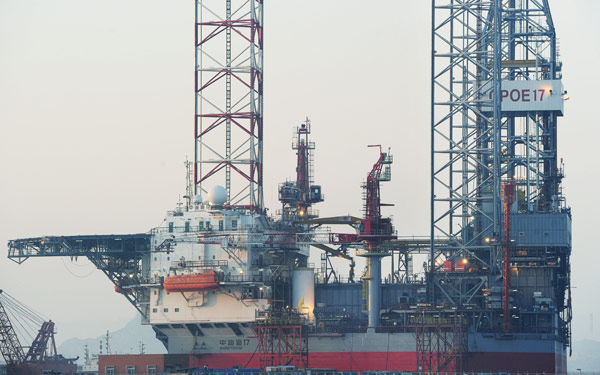 A drilling platform manufactured by Dalian Shipbuilding Industry Co. [Photo by Liu Debin/For China Daily]
China Shipbuilding Industry Corp, one of the Chinese Navy's biggest contractors, announced debt-to-equity swaps which will see eight investors picking up stakes in two of its unlisted subsidiaries for an estimated 22 billion yuan ($3.27 billion).
It is the country's first defense-related industrial enterprise supervised by the central government to restructure its finances via such swaps.
Li Jin, chief researcher at the China Enterprise Research Institute, said: "Swaps could lower the company's leverage ratio and ease its financial burden by increasing capital adequacy. It will eventually promote CSIC's sustainable development."
China Cinda Asset Management Co Ltd and China Orient Asset Management Co Ltd, two of the eight investors, will contribute around 5 billion yuan and 2 billion yuan, respectively, toward servicing debt of CSIC's Dalian Shipbuilding Industry Co Ltd and Wuchang Shipbuilding Industry Group Co Ltd, according to a recent filing made to the Shanghai Stock Exchange. In return, they would pick up equity in the two CSIC subsidiaries.
The other six investing companies will go in for straightforward cash-for-equity deals. They include State-owned enterprises Venture Capital Fund Co Ltd, Enterprises Structural Reform Fund Co Ltd, and China Life Insurance Group Co.
Their investment details will be released after receiving the regulatory approvals, the document said.
In 2016, CSIC reported a debt-to-asset ratio of 68.74 percent, almost bordering the red line set for manufacturing companies.
CSIC's latest debt-to-equity plan appears to suggest a merger with China State Shipbuilding Corp, another major defense-related company, may be possible, said Zheng Minggang, a senior analyst with Dongxin Securities Co Ltd.
"Any such merger would increase the two giants' operational efficiency and augment their capability to attract international orders," he said.
China has launched a slew of government guidelines and funds to reduce SOEs' high levels of debt and enhance their financial health. The debt-to-equity program is considered a significant and efficient way to tackle the debt woes.
Data from the Ministry of Finance show that by the end of June, SOEs' total liabilities amounted to 94.13 trillion yuan, up 11.4 percent from last year.
In terms of revenue, 91 central SOEs earned higher revenues in the first quarter of this year. And 54 of them, including defense-related industries, construction material companies, and those in pharmaceuticals and modern services, posted revenue rises of 10 percent or more.
Companies in sectors such as oil, steel and coal saw their revenues rise at least 40 percent, according to the State-owned Assets Supervision and Administration Commission.
Zou Shuo contributed to this story.