HG Entertainment inches closer to listing in Shanghai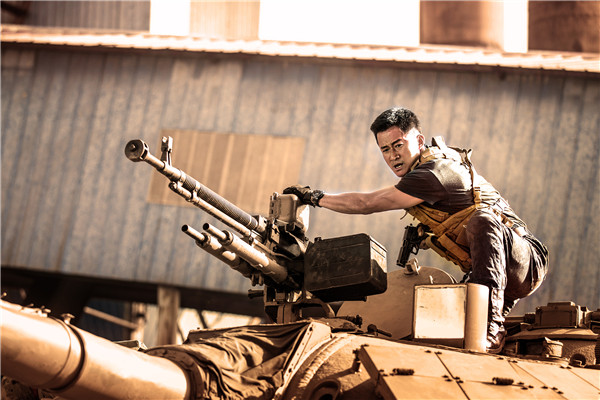 The military-themed movie Wolf Warrior 2 features Wu Jing in multiple roles, including director and star, and is set in an unnamed African country facing a civil war. The cast includes Chinese actress Yu Nan and US action star Frank Grillo, who is known for his role as Crossbones in Captain America movies. [Photo provided to China Daily]
Cinema operator HG Entertainment Co is one step closer to an initial public offering (IPO) in Shanghai, a move which will make it the first listed entertainment branch of its parent company Hengdian Group, owner of a movie production base closest to Chinese version of Hollywood.
The company plans to issue no more than 53 million shares for 2.99 billion yuan ($448 million), according to an updated prospectus HG Entertainment filed to the China Securities Regulatory Commission on Aug 11.
In fact, HG Entertainment submitted its IPO application as early as June 2016, and then received feedback from the regulator.
It first planned to raise 2.49 billion yuan for cinema construction but revised the volume to 2.36 billion yuan in this updated prospectus.
HG Entertainment is the sixth Hengdian Group-controlled company to aim for listing, following Apeloa Pharmaceutical Co Ltd and Nanhua Futures Co Ltd.
HG Entertainment is involved in movie screening, distribution and other derivative businesses. At the end of June, the company owned 310 cinemas in operation, the prospectus said.
In the January to June period, box office revenues of HG Entertainment rose to 1.11 billion yuan, the eighth highest of its kind in China, though the market share dropped slightly to 4.38 percent in the same period from 4.55 percent in 2016, which is some distance from the 13.38 percent market share of its rival Wanda Cinemas.
At the same time, both operating income and net profit showed upward trend, the prospectus said.
HG Entertainment is just one company in the field of television and film seeking listing, and companies like Talent Television and Film Co Ltd, and Omnijoi International Cinema have succeeded in going public in the country's A-share stock market in recent years.
However, in the first seven months of this year, the Chinese securities watchdog rejected 43 of 329 companies' IPO applications, sending the veto rate to 13.07 percent from last year's 2.21 percent.
The IPO application of Zhejiang Times Cinema Chain Co Ltd was dismissed, and the government asked it to further explain issues, such as how to deal with lots of its holding companies losing money and downside risks of the company's overall performance, an announcement released by China Securities Regulatory Commission in May said.
Tan Xinyu contributed to this story.