Chinese investor gets 80% stake in Southampton FC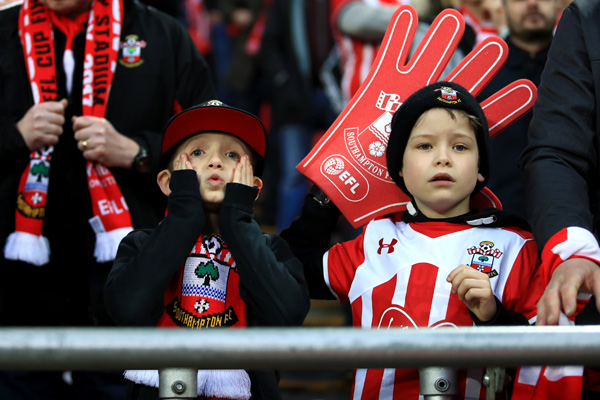 Young Southampton fans in the stands react during a game. JOHN WALTON / FOR CHINA DAILY
A Chinese businessman has bought a major stake in Southampton Football Club.
Gao Jisheng and his family are understood to have bought around 80 percent of the club from its Swiss owner, Katharina Liebherr.
In a statement, Gao said: "I am honored and humbled to become a partner of Southampton FC, alongside Katharina Liebherr, who, together with her father, has been such a great steward of the club, its growth and success. Together, we have the passion and motivation to build on Southampton's excellent progress in recent years and we look forward to an exciting next chapter for the club."
Gao first expressed an interest in the club earlier this year. It seemed at the time as if a company he was believed to have been involved with, Lander Sports Development, would be the buyer of the club, but the investment looks to have since transformed into more of a personal one.
Liebherr inherited the club from her father, Markus, in 2010.
Southampton will become the seventh English club to be owned, or partly owned, by Chinese national. The other clubs are Reading, West Bromwich Albion, Aston Villa, Birmingham City, Wolverhampton Wanderers, and Manchester City.
Liebherr confirmed that Gao had become her partner at Southampton.
"Following extensive and fruitful work, we are entering into a partnership with the Gao family and I am excited about what we will achieve together," she said. "Today is the start of a new and exciting chapter for our club. Mr Jisheng Gao and his daughter, Mrs Nelly Gao, with whom I have built a close relationship, share our values and ambitions. As a team, we will strive to build upon the strong foundation that is in place toward sustain-able long-term success."
She said the partners continued to have faith in Ralph Krueger, the club's chairman, and his team.
Southampton has played one game this season, drawing with Swansea at home. Last season, Southampton finished in eighth place in the English Premier League.
Gao Jisheng founded Lander Holdings Group Ltd in 1995 and switched the company's focus from property to sports investment. According to Forbes magazine, the value of Lander Holdings is estimated at $1.4 billion.
In recent years, an increasing number of Chinese companies have shown an interest in investing in overseas football clubs, resulting in overpricing of this sector. But the Chinese government has increased scrutiny on overseas investment and tightened restrictions on speculative deals by Chinese companies in sectors such as property, sports and entertainment.
"Chinese companies' frenzy for investing in overseas sports industry will cool down for a while. It is positive to have the money invested in domestic sports industry, which has only begun to grow in recent years and has required patience to cultivate its sustainable development," said Adam Zhang, founder of Key-Solution Sports Consultancy.