Helping Chinese holiday in Hawaii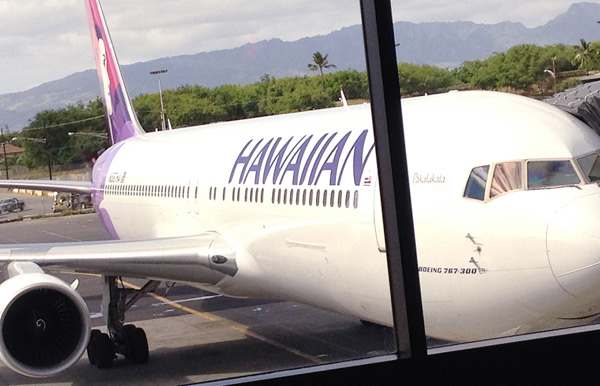 Hawaiian airlines aeroplane parked at gate in Hawaiian Capital Honoluu Interntional Airport in 2015. FRANCIS DEAN / GETTY IMAGES
Liwei Kimura leads Hawaiian Airlines in wooing mainland tourists
As the wanderlust of China's vast middle class takes wing and targets choicest international destinations, tourist hot spots such as Hawaii are seeing multitudes of Chinese travelers.
Small wonder, Hawaiian Airlines, which already operates direct flights between Beijing and Honolulu three times a week, plans to launch more direct flights to connect Shanghai and smaller Chinese cities with Hawaii.
Leading the expansion strategy is Liwei Kimura, Hawaiian Airlines' regional director and chief representative for Greater China. Since taking charge in June 2015, Kimura has been flying frequently between Beijing and Honolulu.
She is bullish on the growth potential of Hawaiian tourism on the back of rising Chinese interest in the Pacific islands.
"We are a premier leisure carrier as our destination is a place for relaxation and fun. Vacations for such purposes have become an essential part of high-quality Chinese lifestyle. I'm confident there's a big market for us in China," Kimura said.
Grown up in Beijing, Kimura brings insider knowledge of local tastes and preferences to the airline's strategy.
For instance, in May, the airline renovated the cabin of the plane used for the Beijing-Honolulu flight, to highlight certain elements in design and layout.
When Chinese fliers stepped into the cabin, they apparently felt as if they were in Hawaii already, more so because the flight attendants wear traditional Hawaiian flowers.
The business class was equipped with seats that allow customers to lie down fully. This was done to meet the expectations of affluent Chinese travelers who are willing to pay more for comfort and quality service during long flights.
"Our seats look fashionable and use ergonomic design. Besides, we don't use the traditional on-air entertainment system for business class anymore. Instead, we hand in every customer an iPad.
"We offer all this at flight ticket prices that are the same or comparable to our competitors', and we aim to provide more exquisite services at the same price points," she said.
Kimura's emphasis on style in the airline's customized approach to the China market is also evident in her sartorial elegance. For this interview in Beijing, she is dressed in a purple qipao, a classic Chinese dress.
That color is significant. "Purple represents honor in Hawaii. If something is purple, it means it's honorable. The symbolic meaning is the same as in China. Hawaiian Airlines even innovated its logo with heavier use of purple."
The China-Hawaii style fusion extends to her qipao's floral patterns, which are based on traditional Hawaiian flowers. That's not all.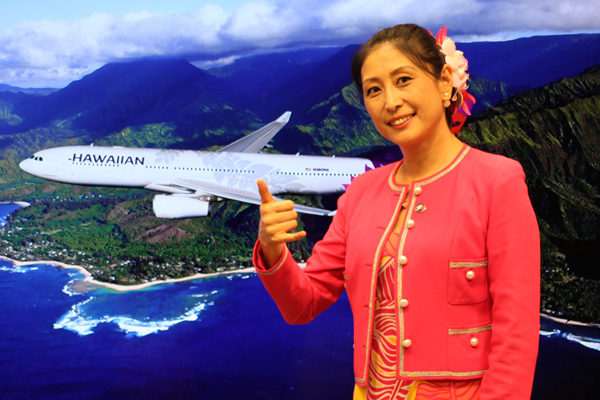 Liwei Kimura, Hawaiian Airlines' regional director and chief representative for Greater China. PROVIDED TO CHINA DAILY
Kimura's earrings are purple-hued, and a purple flower on the left side of the parting of her hair completes the chic look. "I've a lot of flowers in different colors to match my clothes, and I'd wear them when I'm in the mood. It doesn't have to be any formal occasion.
"When a flower is on the left side, it means the woman is married. If it's on the right side, it means she is still available."
That feminine wisdom helps her to tap into her natural talent and self-confidence, and shapes her management style, which, she said, can be described in one word-empowerment.
That is, empowerment of her team, her employer, the airline's customers, staff and stakeholders. The key to that is honest, open and timely communications, she said. "I'm trying to bring what I've learned in my life journey to my team."
She believes that though people complain about even little problems, "every negative thing can be turned" into a positive outcome or a positive start for something new eventually.
Her 20-plus years of experience in the travel and hospitality industry are peppered with instances of negatives being converted into positives, she said.
Kimura began her career at Great Wall Sheraton in Beijing, the first Western hotel that opened in modern China. In 1999, she left China and went to Hawaii to pursue an MBA from the University of Hawaii, where she majored in international management with focus on China. After graduation, she worked at Starwood Hotels & Resorts in Hawaii before joining Hawaiian Airlines.
Her family is based in Hawaii, where they own a house, and Kimura relies on constant communications for work-life balance.
"We're really an international family. I try to communicate with my family members through social media. The physical distance makes every moment we spend together a treasure for us. When we are together, it's quality time, and I find that very gratifying."
Equally gratifying for her is the airline's record. For the past 13 years, Hawaiian Airlines has been rated as the most punctual US airline, according to the US Department of Transportation.
Last year, it was named the most punctual airline globally by the UK-based air travel intelligence company OAG. The OAG Punctuality League, covering about 200 airlines, revealed that 89.9 percent of Hawaiian's flights arrived on time in 2016.
Kimura said every department and staff member of Hawaiian Airlines values the importance of safety and punctuality. They have become important parts of the corporate culture, something that Chinese travelers have come to expect from the airline, she said.