Venture to float new nuke plants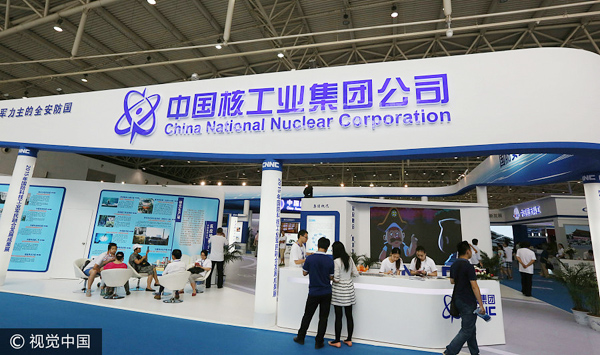 A stand of China National Nuclear Power Co at an expo in Beijing, July 18, 2015. [Photo/VCG]
Joint enterprise plans to research, build small marine power stations
A joint venture to develop and produce small, floating nuclear power plants has been set up by State-owned China National Nuclear Power Co and four other domestic companies, according to an announcement released late Thursday.
The new venture would have 1 billion yuan ($150 million) in registered capital, the announcement said.
Such marine plants can sail to where they are needed and be used for many different needs, industry experts say. The demand for such power plants is expected to grow, according to analysts.
They can be used to operate drilling machinery for offshore oil and gas fields, meet heating and desalination needs and run nuclear powered icebreakers, the announcement said.
China National Nuclear Power will jointly set up the new company with Zhejiang Zheneng Electric Power Co, Shanghai Guosheng Group Co, Shanghai-based Jiangnan Shipyard Group and Shanghai Electric Group, the statement said.
The new company will be involved in maritime nuclear power research, development, building, operation and management, as well as power sales and seawater desalination.
"It is hard to choose the site for large nuclear reactors as they have high hydrological and geological requirements, and safety is always a major concern for local residents living in places with large nuclear stations, which see 60 to 70 years of service life," said Han Xiaoping, chief information officer of China Energy Net Consulting Co.
"Small nuclear reactors, however, can provide cheap and sustainable electricity," he said. One kilowatt-hour of electricity generated by an offshore nuclear plant costs about 0.9 yuan, compared with 2 yuan for the same quantity generated by diesel for use by drilling platforms in the Bohai Sea.
They also can be moved to isolated areas when they reach the end of their service life, Han said.
Floating nuclear reactors can also be exported to economies with large populations but scarce land resources, including economies participating in the Belt and Road Initiative such as Pakistan, Bangladesh and Myanmar, Han said.
China National Nuclear Power said establishment of the new company also is in accordance with the Belt and Road Initiative.
Exploitation of marine resources is vital to China's efforts to build itself into a maritime power, said Wang Yiren, deputy director of the State Administration of Science, Technology and Industry for National Defense.
The United States launched the first floating nuclear power plant five decades ago, and Russia started its own project in 2000. However, China is not lagging behind, Han said. What matters now to advance in nuclear power is mastering new technology and concepts, such as high temperature gas-cooled reactors.
Wang Shoujun, president of China National Nuclear Corp, said the company has already signed memorandums of understanding with Saudi Arabia and the United Arab Emirates in HTGR cooperation. CNNC is the parent company of China National Nuclear Power.