Internet TV brands tune into drama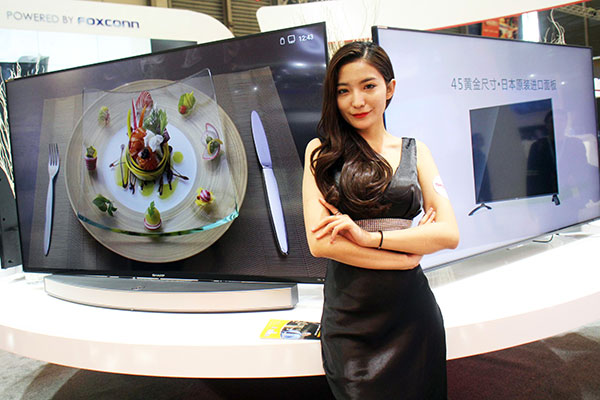 A model poses in front of two internet televisions at the Appliance& Electronics World Expo in Shanghai. XING YUN / FOR CHINA DAILY
China's previously buoyant internet TV brands are currently players in their own drama, watching a downturn in the sector this year.
As the price of panels continues to rise, the paid-for-content business is failing to produce enough revenue to subsidize hardware sales, analysts said.
Internet TV brands are companies, such as LeEco and Xiaomi, which integrate online TV programs into their television sets. There are also traditional TV manufacturers that partner with internet service providers to establish new internet TV product lines.
Some of the other brands are Whaley Technology Co Ltd, a Chinese internet TV startup backed by China Media Capital, and FFALCON, TCL Corp's first internet TV brand.
"This year has proved a turning point for internet TV brands, after witnessing a rapid growth in the past few years," said Liu Buchen, an independent researcher in the home appliances sector.
"They have posted a decline in sales and losses continue to rise."
Liu said TV unit sales of cash-strapped entertainment company LeEco reached about one million in the first half, lagging far behind its target of seven million. In 2016, five million LeEco TV sets were sold.
"Apart from LeEco, the sales of other internet TV brands are not optimistic."
The rising price of display panels is giving internet TV companies, which subsidize hardware through paid content, a miserable time, according to Liu.
"Panels account for more than 60 percent of TV costs. The price rise of panels has continued for 14 months, the longest period in the past five years," Liu said.
Industry statistics show average prices of internet TV sets, which range from 2,000 yuan ($294) to 5,000 yuan, are up 20 percent this year compared to 2016.
TV panel prices, averaging 1,400 yuan to 3,500 yuan, are up 40 percent on average compared with 2016.
Statistics from Sigmaintell Consulting Co Ltd showed the costs of 32-inch and 40-inch LCD TV panels rose 70 to 100 percent in May, and the 50-inch and 60-inch LCD panels increased 30 percent.
"In the long term, internet TV brands may have good prospects, but the process could be very long," said Xu Chun, an analyst with Changjiang Securities.
"Even though the model might be improved, their profitability may not meet industry expectations."
Sun Taitong, an analyst from industry watcher China Market Monitor, said internet TV brands grew rapidly last year, but their sales experienced a downturn in the first quarter.
Traditional TV makers, such as TCL Corp, can bargain on prices with upstream component producers, analysts said. Their costs can also be reduced by boosting manufacturing efficiency and supply chain management.
In contrast, internet TV companies, which buy fewer panels, possess less bargaining power with panel makers and other upstream suppliers.
In November, LeEco announced it was increasing the prices of some TV sets by 100 yuan and others by 300 yuan. Rival Xiaomi, around the same time, raised the prices of its HD televisions by 300 to 700 yuan each unit.
"Some internet TV users complained they seldom see internet TV programs, as they need to pay extra fees," Liu said.
Weng Zhenhua, general manager of the TV department at consultancy All View Cloud, said the demand for high-end and diversified TV products was increasing and low-price competition wasn't sustainable.