Sentury's China-made aircraft tires set to roll
By WANG YING in Shanghai and XIE CHUANJIAO in Qingdao, Shandong | China Daily | Updated: 2017-08-10 07:54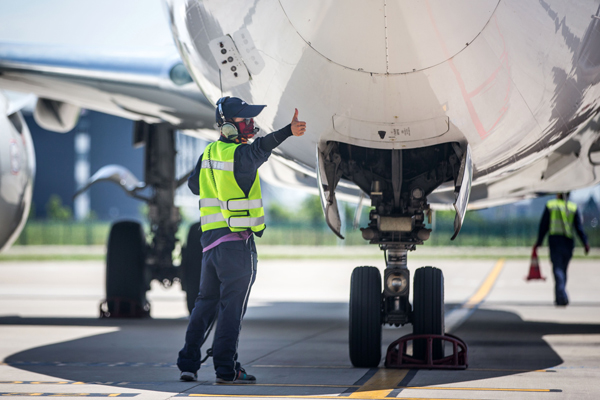 A maintenance man checks the tire of an aircraft which just taxied to the parking apron in Hangzhou, Zhejiang province. CHEN ZHONGQIU / FOR CHINA DAILY
The first batch of commercial aircraft tires made by a Chinese company is expected to roll off the production line by the end of this year, which will likely end the history of total reliance on imported tires for China's civilian aircraft.
Qingdao Sentury Tire Co Ltd, manufacturer of the home-made aircraft tire, has just poured 300 million yuan ($44 million) into the new facility, which covers 30,000 square meters and will reach a capacity of 150,000 tires per annum in the coming five years.
Lin Yilong, general manager from Qingdao Sentury, said bullish market needs have provided a huge opportunity for airplane tire producers.
According to Boeing's forecast, China's civilian aircraft fleet, including both passenger aircraft and cargo aircraft, will reach 7,210 by 2034, nearly three times that of 2014.
This will create a lucrative market for aircraft tires as the industry practice is to replace aircraft tires after 150 takeoffs and landings.
The aircraft tire market is dominated by Michelin, Bridgestone and Goodyear, whose market shares are 37 percent, 30 percent and 20 percent respectively, according to Lin.
Qingdao Sentury also plans to develop tires for defense aircraft. According to RUAG World Air Forces Special Report 2015, there are 2,787 defense aircraft in China.
Qingdao Sentury started its moves in this direction seven years ago, when a 53-member team was formed for the research and development of aircraft tires.
But producing a high-performance plane tire is not easy because it has to bear the weight of a plane full of passengers and cargo, resist the smash onto the ground, and remain stable on sun-baked ground as well as in skies under zero temperature.
"Our group was challenged by the strict and specific demand for the airplane tire. It requires dozens of times load capacity of traditional automobile tires, and some three and four times the speed of regular car tires," said Sheng Baoxin, vice-general manager with Qingdao Sentury.
After going through countless failures and tests, Sentury's tire team mastered the state-of-art technology and even received independent intellectual property rights. What is more, its low costs in logistics and delivery efficiency have gained a special advantage over well-known international peers.
In December 2016, Sentury received approval from the Civil Aviation Administration of China for producing aircraft tires for use in China on four Boeing 737 aircraft models.
Later, Sentury sought to research and develop tires for the Boeing 777, Boeing 787, Airbus A320, Airbus A350 and the Airbus A380 models, as well as for China's homegrown passenger aircraft, the C919, and regional jet, the ARJ21, etc.
"Currently, we are preparing to apply for more airworthiness certifications from the US and Europe, as well as in other nations and regions. Meantime, we will also apply for approvals of the world's major aircraft makers for original installation in aircraft of Airbus, Boeing and COMAC (Commercial Aircraft Corporation of China)," said Sheng.
Zhu Wenqian in Beijing contributed to this story.