'Teapot' refineries stir up oil sector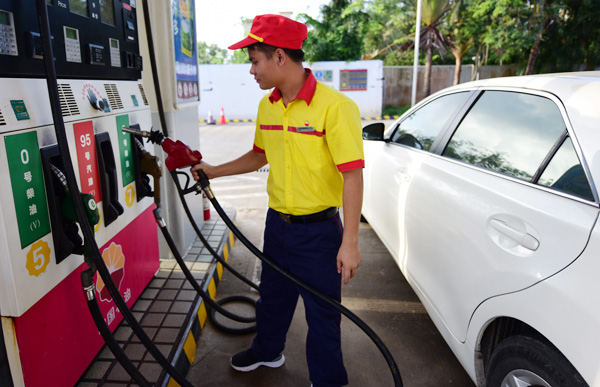 A petro station in Qionghai, South China's Hainan province. MENG ZHONGDE / FOR CHINA DAILY
A price war between China's State-owned oil majors has cut costs for motorists at gasoline stations in a move to combat overcapacity and the rise of "teapot" refineries.
The China Petroleum and Chemical Corp, or Sinopec, and PetroChina Co Ltd have become victims of an oversupply in crude oil and an increase in independent refineries known at "teapots".
But analysts dismissed claims that the country's booming bike-sharing sector, spearheaded by Mobike and Ofo Inc, have played a leading role in falling pump prices.
"Most of the bike-sharing customers do not really drive," said Li Li, an energy research director at ICIS China, a consulting company which provides energy market analysis.
"The essential reason for the price war is the country's refinery overcapacity and the rise of teapot refineries," Li added.
In a move to prop up crude prices, OPEC, or the Organization of the Petroleum Exporting Countries, have cut production, but the slack has been taken up by oilshale operators in the United States.
At around $50-a-barrel, crude refineries across the world, including China, are suffering from overcapacity with output outpacing demand.
A forecast by CNPC Research Institute of Economics and Technology expects gross margins in the sector to be lower this year than in 2016.
In Asia, the situation is likely to deteriorate with a number of large refinery projects coming online or under construction.
"Relaxing crude import licenses, which allowed China's independent teapot refineries to increase their operations, have also added to overcapacity," Li, at ICIS China, said.
Independently run firms with relatively small capacity in China tend to range from 20,000 barrels per day to 100,000 barrels per day.
In the first half of this year, they imported more than 40 million metric tons of crude.
Total oil imports for the same period were 212 million tons, according to the General Administration of Customs.
Wang Lu, an Asia-Pacific oil and gas analyst at Bloomberg Intelligence, has forecasted slower growth for the refinery sector in the next five years because of limited capacity. "China no longer plans to boost refinery capacity and refiners are gearing up to produce higher-quality fuels with less sulfur to reduce pollution," she said.
"Rapid capacity expansion in the past and the economy's shift away from heavy industry have made China a net exporter of refined-oil products, including gasoline, diesel and kerosene," Wang added. "Sinopec and Petro-China will slow down the pace of refining capacity expansion."
The rise of "teapot refineries" has played a major part in the supply glut, Oceana Zhou, a senior analyst at S&P Global Platts, pointed out.
"Competition in the retail market has been intensive and independent oil companies are also expanding their retail networks to compete with the State-owned ones," she said, adding that Sinopec's retail volume fell 3.47 percent year-on-year in the first quarter.
"The independent refiners' average operation rate is up 7 percent year-on-year to 63 percent in the first half of 2017," Zhou added.
Still, she believes China's refining capacity will continue to grow in the coming years with it rising to at least 462,000 barrels per day.