Telecom firms take cautious approach to 5G investment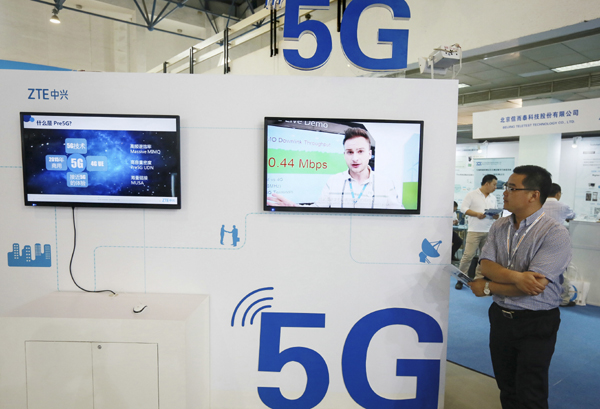 The 5G promotion booth of ZTE at an industry expo in Beijing. [Photo by A JING/CHINA DAILY]
China's major telecom players are taking a cautious approach when it comes to 5G investment, an industry report has revealed.
UBS Securities Co Ltd, the investment bank and brokerage, expects capital expenditure on fifth-generation communication technology to be more measured compared to the rollout of 4G.
Tech standards for 5G have yet to be finalized, while the report is concerned about how the new network will be monetized.
"We expect lower capital expenditure and a gradual process when it comes to 5G," said Wang Jinjin, managing director of Asian telecom research at UBS Securities in Beijing.
"We believe the decline in spending, which began in 2016, will continue until 2018. This will put pressure on equipment vendors," Wang added.
Telecom carriers went on a capital expenditure binge between 2013 and 2015 on the back of 4G and fiber broadband construction, according to the report.
But China Mobile Communications Corp, China United Network Communications Group Co and China Telecommunications Corp appear to be more cautious about 5G construction, UBS Securities highlighted
"There are reasons behind this, as 5G standards have yet to be finalized, and the monetization model is completely different from 3G or 4G networks, because its machine-centric," Wang said. "We expect 5G investment to come later and it will be lower than market expectations."
Based on the International Telecommunication Union's roadmap, 5G standards will not be finalized until 2019, the report pointed out. A large-scale 5G rollout is likely to start in 2020.
China Mobile triggered spending on 4G after upgrading its network from the 3G era and is now the market leader, the report said.
The government has been a major backer of 5G, which is included in the 13th Five-Year Plan (2016-20).
In March, the Ministry of Industry and Information Technology announced China had established the world's largest 5G test site.
Next year, China Mobile will start 5G tests and launch a pre-commercial service in 2019. It aims to fully commercialize 5G services by 2020.
China Unicom has also accelerated its efforts to develop 5G technology. It has established the country's first pre-5G base station in Jilin province in partnership with Huawei Technologies Co Ltd.
"We estimate the IoT (internet of things) network investment by the three telecom carriers will reach only 20 to 30 billion yuan ($2.9-4.4 billion) from 2017 to 2018, which represents just 3 to 4 percent of total industry expenditure," Wang said. "So, it is hard to reverse (the trend) of downward capital expenditure."