Lattice Power hunts for overseas M&A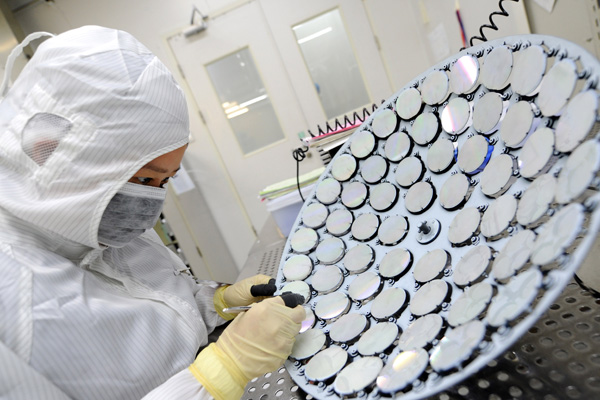 The LED production line of Lattice Power Corp in Nanchang, Jiangxi province. [Photo/Xinhua]
A major Chinese chipmaker is hunting for overseas acquisitions in the LED sector as it bids to expand globally.
The head of Chinese Lattice Power Corp confirmed the group is looking to buy foreign companies involved in the light-emitting diode, or LED, industry.
This is the semiconductor technology behind lights in cell phones, tablets, PCs and televisions, as well as flashlights, car headlights and traffic signals.
Wang Min, chief executive officer of Lattice Power, said it had a billion-dollar war chest when it came to acquisitions.
"We are looking at potentially huge markets abroad, as well as foreign talent and technologies," Wang said.
Lattice Power tried to buy Lumileds, the United States-based subsidiary of Philips NV two years ago. But the bid to take over one of the technology giant's crown jewels failed.
Founded in 2006, the group based in Nanchang, Jiangxi province, has a registered capital of $123 million and more than 200 patents, including those for silicon substrate-based LED chips.
Indeed, this move into innovation is all part of the country's plan for companies to expand their technology bases.
Part of that is to encourage more mergers and acquisitions, and to "push for concentrated and differentiated development" in the industry.
By 2020, the LED sector in China is expected to generate 1 trillion yuan ($148.6 billion), so the stakes are high for tech companies.
Lattice Power has become a major player here with revenue from its main LED business reaching 861 million yuan in 2016, up 13.7 percent year-on-year.
"The low-cost and easily scalable technology has been applied to millions of households," CEO Wang said.
To maintain earnings growth, the company plans to raise $80 million this year to help finance three new production lines.
"By then, production capacity of LED chips will grow by 50 percent," Wang said.
Wu Shenjun, managing director of GSR Ventures, said the silicon substrate-based LED technology is "an ideal choice" for next generation innovation.
In 2015, the Jiangxi government wheeled out a plan to establish Nanchang Optics Valley, a Silicon Valley-style cluster of LED companies.
Since then, Lattice Power has launched an international partnership drive to attract more enterprises with LED expertise to set up workshop at Optics Valley.
"The goal is to build an industry cluster, consisting of about 100 companies, ranging from upstream to downstream of the LED chain," Wang said.
"By sharing resources, firms can lower costs in research and development, raw materials, logistics, equipment and labor," he added.
Zou Shuo contributed to the story.
Contact the writers at jingshuiyu@chinadaily.com.cn