India blocks Fosun's $1b Chinese pharmaceutical acquisition: Media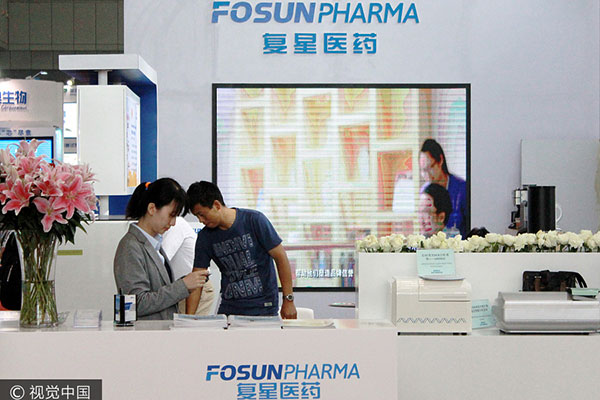 Shanghai Fosun Pharmaceutical's booth is pictured at an expo in Nanjing, East China's Jiangsu province, Sept 11, 2015.[Photo/VCG]
The Cabinet Committee on Economic Affairs of India (CCEA) has decided to block Shanghai Fosun Pharmaceutical Group's 8.5 billion yuan ($1.3 billion) takeover of Indian drugmaker Gland Pharma, Bloomberg reported Monday.
Fosun Pharmaceutical said in a statement issued on the morning of Tuesday that Gland Pharma has not received notice on the result of its review of the acquisition from the CCEA, chaired by Indian Prime Minister Narendra Modi.
Due to change of acquisition, Fosun Pharmaceutical shares fell as much as 13 percent on Tuesday and closed down 1.13 percent at 28.82 yuan. At 10:15 am, its shares were up 0.73 percent at 29.03 yuan.
Last July, Fosun Pharmaceutical agreed to buy an 86 percent stake in Gland Pharma for $1.3 billion. The deal marked the biggest overseas acquisition by a Chinese pharmaceutical company to date.
On April 27, Fosun Pharmaceutical said the deal had won the approval from China's National Development and Reform Commission, and also completed Indian and US antitrust filings respectively.
Furthermore, the deal had been reviewed by India's Foreign Investment Promotion Board, and will be recommended to the CCEA for further approval. The termination date was also extended to July 27.
However, according to the statement issued on July 27, Fosun Pharmaceutical said the deal was still waiting for a nod from the CCEA and the termination date was extended to Sept 26.
Gland Pharma, based in the southern Indian city of Hyderabad, is one of world's largest providers of injectable generic medicines.